'Snake Boy' Ari Wibowo's Severe Case Of Erythroderma Causes Skin To Shed Every 41 Days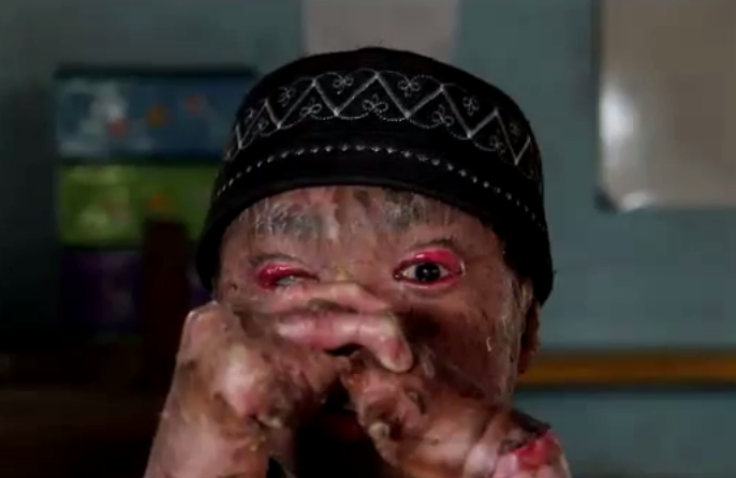 Dry and itchy skin can be a life-long battle seldom remedied by hot showers and skin creams. A teenager in Indonesia must constantly smear his body with moisturizer and soak in water every hour to prevent his skin from hardening up like a sculpture, making it challenging for him to move. Sixteen-year-old Ari Wibowo, diagnosed with erythroderma, also known as "red man syndrome," has been shedding scaly skin every 41 days since he was born, due to scarce treatment options for the physically and mentally plaguing skin condition.
"It's really sad because he was not born normally and has scaly skin all over his body, similar to being severely burnt, from the sole of his feet up to his head," Nurcholis Anhari Lubis, a photographer documenting the boy's condition for an essay project, told the Daily Mail Australia. Lubis described the boy's rare skin condition as "scaly like a snake about to shed his skin." "If he leaves it unattended for too long, he won't be able to speak because the wrinkles inside his mouth would go hard and it would dry out all his blood in his body."
Erythroderma, or idiopathic exfoliative dermatitis, is characterized by an intense generalized redness of the skin and affects greater than 90 percent of the body surface. This skin condition can pose a significant risk of morbidity and mortality, in addition to the risks of the underlying disease and its therapy, according to a 2009 review published in the Indian Journal of Dermatology. The disease can be fatal, even when it's properly managed because it can cause metabolic burden and complications.
Despite Wibowo's condition, he eats normal food like everyone else, like instant noodles and crackers. The teenager does have trouble talking because of his illness, and even has a visual impairment in his right eye. Wibowo keeps the left eye moist with constant drops to see properly.
Due to ignorance in his village, the citizens blame the teen's condition on a superstition. If a woman mistreats animals while she is pregnant, according to the Indonesian myth, then it will affect her unborn child. Lubis does not believe in myths, but he admits many of the people in Wibowo's village still do.Wibowo's mother has been accused of torturing a lizard she found in the family home while pregnant, according to Metro.
Those villagers' beliefs have made it difficult for Wibowo and his family. The teen, who is currently home schooled, is forced to study alone because of his very community. "No schools are willing to accept him because they fear his skin condition would be contagious to teachers and other students," Lubis said.
Lubis and the boy spent four days together and did a photo shoot, unapologetically, to capture the lives and the way humans live in their own world.
Published by Medicaldaily.com