Snoop Dogg Launches Lifestyle Website Focused On Marijuana, Users' Access To Dispensaries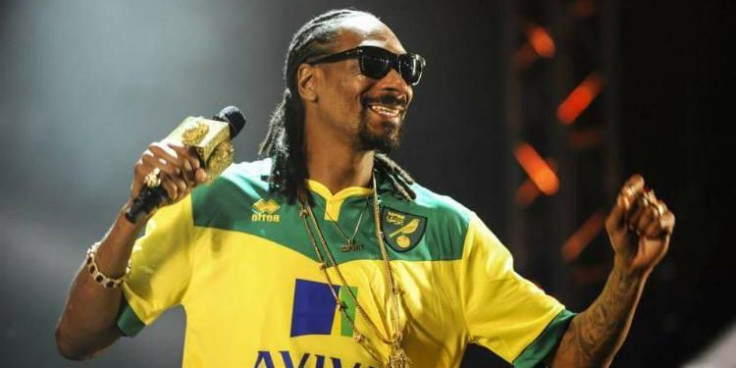 Marijuana has come a long way since first catching on in the 1920s. More people today admit to recreational smoking, while others regularly discuss its medical use and the many benefits of legalization. For a substance becoming so legitimized in society, it was only a matter of time before the Internet created a dedicated space for the popular substance. And who better to lead this space than rapper and self-described "stoner" Snoop Dogg?
The rapper-turned-tech-investor announced this week that he's behind a new digital media platform, called Merry Jane. It centers on — you guessed it — cannabis, and will feature celebrity interviews, news coverage of the weed industry, and an information center for all things marijuana, USA Today reported. Snoop said the site will provide users with "all they need to know" about marijuana, and be something of an encyclopedia for both new and seasoned smokers. Users can also expect a cooking show, where people can learn to make the best edibles and understand which foods pair well with cannabis.
The dedicated section to edibles may be especially useful considering the on-going debate: The Centers for Disease Control and Prevention warns against edible consumption, but a JAMA study found that accurate, detailed labels can prevent edible-related harm; Colorado comparnies, for example, are required to individually wrap each edible piece or ensure each serving contains 10 milligrams or less of THC.
Merry Jane goes even further than that, though, by providing users an opportunity to learn more about the different strains of marijuana, namely which strain may be right for them. The site can then connect users to the closest dispensary that has that particular strain. Eventually, dispensaries will be able to upload full menus that they can later update and control an online storefront on the site.
Ted Chung, the co-founder of Merry Jane, told TechCrunch that "advertising is definitely part of the plan," but that the most important aspect of the site will be improving the marijuana business by creating a central hub for dispensaries, brands, and information. Chung pointed out that user demand is already there, and that Merry Jane could be expected to surpass its cannabis competitors in as little as 6 months.
Snoop Dog mentioned that the site could also be good for bringing reluctant users out from the shadows. "We are giving them an opportunity to come out of the closet and admit they like to smoke," he said. "I'm a smoker, my name is Snoop Dogg, and I'm a stoner."
However, there was little mention of medical marijuana, and the role it will play on Snoop's site.
Merry Jane is slated to go live in the next few weeks.
Published by Medicaldaily.com