Snooty The Manatee's 65th Birthday: The Oldest Manatee In Captivity And Possibly The Wild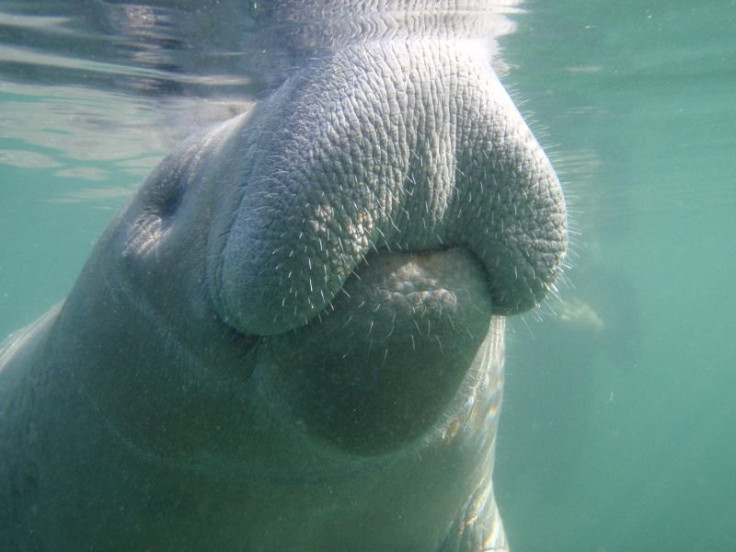 Snooty the Manatee will be celebrating his 65th birthday on Sunday, July 21, which will mark him as the oldest manatee in captivity and possibly one of the oldest in the wild as well, according to experts. Snooty has been an entertainer and educational tool for Bradenton, Fla., since Harry S. Truman was president, and his good health indicates many more years to come.
Snooty has been a huge attraction for the South Florida Museum, ever since he arrived in 1949 at 11 months old. Snooty's mother was taken into captivity in the late 1940s in Miami, but handlers didn't know she was pregnant. Once the exhibition was closed, Snooty's mother was released back into the wild; however, Snooty, being born into captivity, wouldn't have been able to survive in the wild, even with his mother.
Snooty remained behind alone with handlers, and because the Marine Mammal Protection Act and the Endangered Species Act wasn't passed, there were no laws obligating facilities to keep him with his mother. A manatee calf is supposed to stay with its mother for up to two-and-a-half years after birth. Since then, research has revealed a lot about manatees, showing that they learn necessary survival skills from their mothers, such as how to forage for food and stay warm in the winter. Snooty never learned those invaluable skills, making it too dangerous to release him into the wild.
The 1,020-lb. mammal has had his food delivered to him his entire life, which consists of 70-80 lbs. of romaine lettuce, and 10-20 lbs. of cabbage, kale, broccoli, carrots, and sweet potatoes daily.
"If you lived in a pool where people gave you a bath and fed you lettuce by hand and you had no other predators and the water was always a nice warm temperature, you'd be living long too," said Brynne Anne Besio, the executive director of the South Florida Museum.
Snooty's last check-up in June has given him another clean bill of health, which is promising for conservation purposes, considering he has served as an ambassador for his fellow endangered species, the manatee. Currently, Snooty is the foster parent to a group of young manatees who are nearing the end of their time spent in rehabilitation and will be released back into the wild shortly.
"He does take a few more naps than some of the younger ones that we have and that is to be expected," said Marilyn Margold, the director of living collections for the South Florida Museum.
It is not unusual for manatees to live for more than 50 years in captivity, according to Florida Fish and Wildlife Conservation Commission. The importance of their longevity is important, as manatees are protected under two federal laws, the U.S. Endangered Species Act of 1973 and the U.S. Marine Mammal Protection Act of 1972, because of the negative effects that boats have had on manatees. With an ever-increasing number of boats, states such as Florida have established and enforced boating restrictions to protect the slow-moving mammals, which clock in at speeds up to 15 mph.
According to Robert Bonde, a research biologist and manatee expert for the United States Geological Survey in Gainesville, Fla., if manatees didn't face such imminent threats from boat propellers, it's possible they could live to be Snooty's age in the wild.
Snooty will be celebrating his birthday at the South Florida Museum, Bishop Planetarium, and Parker Manatee Aquarium this Saturday. The party is free and open to the public, with featured children's games and art activities, in addition to free cookies and drinks. In honor of Snooty, any visitors who share his birth year of 1948 will be given free admission to the museum for the entire month of July. At least 5,000 people are expected to attend the celebration.
Published by Medicaldaily.com