Social Media Challenges Social Norms, As More Users Experience Online Rudeness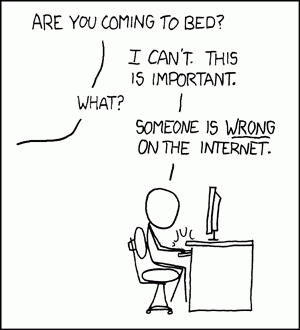 As humanity continues to connect increasingly via electronics, social media usage is exploding — along with tempers.
Some joke that Apple might do well to introduce a USB-connected breathalyzer for computers that would help curtail wine-besotted communiques via Facebook, Twitter, and text-message. Others have trouble behaving online even under the best of circumstances, failing to maintain decorum among people they consider friends, their closest family.
A new survey of 2,698 people found 78 percent reporting an increase in online impertinence, with 40 percent ending contact after a virtual encounter. A single online fight can cause someone to block, unfriend or unsubscribe to another, said Joseph Grenny, co-chairman of corporate training firm VitalSmarts, which conducted the survey.
"The world has changed and a significant proportion of relationships happen online but manners haven't caught up with technology," Grenny said. "What really is surprising is that so many people disapprove of this behavior but people are still doing it."
The Pew Research Center says 76 percent of adult Internet users in the United States now use social media, with Facebook by far the most popular. In Britain, slightly more than half of the population uses Facebook. (See also, Social Media Affects Romantic Relations.)
The survey references a number of high-profile examples of online indecorum, including a Greek triple-jumper who lost her Olympic berth, a lifelong ambition, in just 90 characters. Voula Papachristou lost her spot on the Greek national team for expressing support for a right-wing political party and mocking African migrants with this message: "With so many Africans in Greece, at least the West Nile mosquitoes will eat home made food!"
A British [international] football player, Joey Barton of Olympique de Marseille, was chastised by the French football federation's ethics committee. His crime? Referring to a rival defender in Germany as an "overweight ladyboy" on Twitter.
While many of these examples might seem trite to anyone who's received serious online threats or been victimized by cyber-stalking, the survey focused more rudimentarily on "rudeness."
In a media interview, Grenny suggested social pressure as a means to enforce online moral turpitude, a bare standard of decorum one might afford to a stranger on the street. He said social media users should avoid monologues — as tempting as they might be — and replace lazy, judgmental words with kinder sentiments, refraining from ad hominem attacks during emotionally vigorous debate, such as political elections.
"People seem aware that these kinds of crucial conversations should not take place on social media yet there seems to be a compulsion to resolve emotions right now and via the convenience of these channels," said Grenny.
Sometimes, he said, it's best to have a conversation face-to-face — at least with someone you know "IRL."
A trio of studies by the Columbia University and the University of Pittsburgh add a bit more academic heft to the subject, however. Keith Wilcox, assistant professor of marketing at Columbia Business School and co-author of the study, said Facebook [and other social media users] present on social media an enhanced image of the self, a psychological admixture lending itself to impulsive behavior.
"Think of it as a licensing effect: You feel good about yourself so you feel a sense of entitlement," he said. "And you want to protect that enhanced view, which might be why people are lashing out so strongly at others who don't share their opinions.
These types of behavior-poor self control, inflated sense of self "are often displayed by people impaired by alcohol," he said.
Published by Medicaldaily.com