Solar-Powered Ocean Chair, 'Seatrac,' Gives Disabled Greek People Chance To Swim In Sea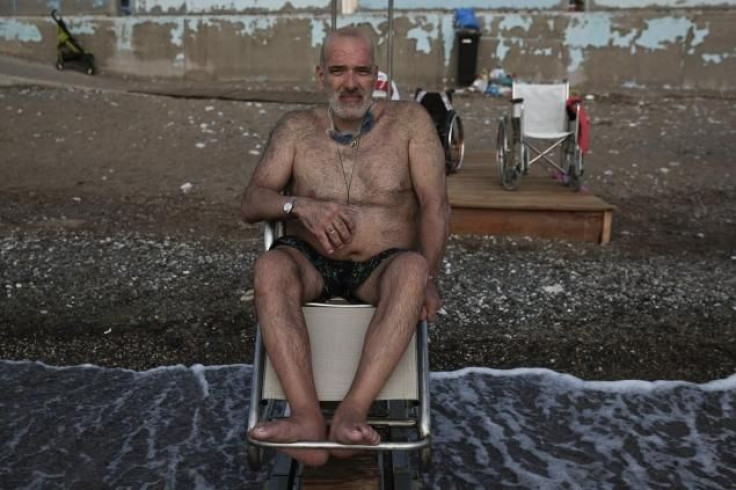 Greece is known for its beautiful beaches and water — but many disabled Greeks are unable to take a dip without relying on a group of friends to pull them into the water and support them. Nikos Logothetis, Ignatios Fotiou, and Gerasimos Fessian, a group of engineers, wanted to find a way to assist wheelchair-users in experiencing the sea. They came up with the "Seatrac."
Due to Greece's conducive climate with almost year-round sun, the Seatrac is entirely powered by solar energy. Disabled people are able to hoist themselves onto a chair which then slides down a track and into the water.
"It was unreal," Lefteris Theofilou, a man who is paralyzed from the waist down, told Reuters of the experience of entering the sea. "It makes you feel free and able to do things you could not imagine you could do on your own."
Many of the disabled Greeks who have used Seatrac haven't been able to swim in 25 or more years.
The engineers were helped by the support of Vassilis Kostopoulos, their professor and director of the Laboratory of Technical Mechanics and Vibrations. There are about 11 Seatracs operating currently in Greece and there are plans to increase their use, though this may be difficult due to Greece's meager facilities for the disabled. Meanwhile, gathering support from local authorities is often a struggle.
Reuters reports that at a beach in Alepochori, a local man had to build a ramp reaching from the street to the Seatrac to pave a path for wheelchairs, because the local municipality does not provide proper infrastructure for people with disabilities.
"The support by the local authorities simply does not exist," Minas Georgakis, the husband of a woman with multiple sclerosis, told Reuters.
Until Greece improves its services and accessibilities for people confined to wheelchairs, the Seatrac is offering a much-needed respite to those who have the chance to use it.
"The word accessible, for me now, holds a very wide meaning, because it's not about accessing the sea but also access to life itself," a disabled man says in a video made about Seatrac. "What I feel in the water is liberation. I can move around in any direction I like, without any constraints… dive in and hear the silence, chase the fish. This…this cannot be compared to anything."
SEATRAC | Nikos Logothetis from Focus Forward Films on Vimeo.
Published by Medicaldaily.com