A Solution To Split Ends? 'Velaterapia,' Brazilian Hair Treatment, Uses Open Flame To Treat Follicles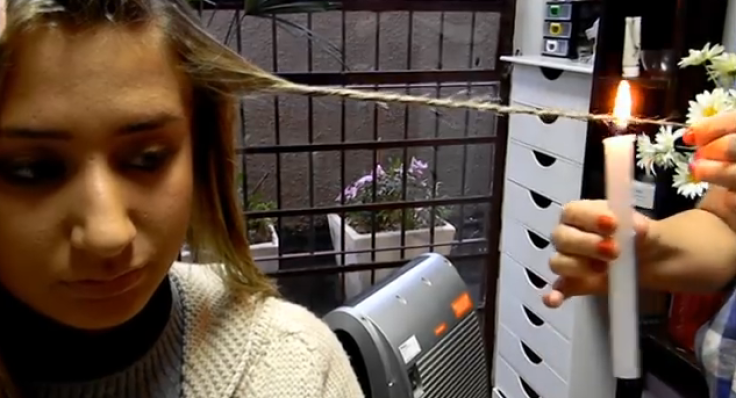 From the birthplace of supermodel Gisele Bundchen, and the host of the 2014 FIFA World Cup, comes a hair treatment that may provide a permanent solution to one of the most hair-pulling woes for women: split ends. Soccer is not the only thing that is popularly acclaimed in Brazil, the country has also developed some of our favorite hair treatments including Brazilian straightening (or keratin) treatment, and has now introduced us to a procedure that claims to vanish our split ends: valterapia.
Valterapia is an open flame treatment that uses a candle that "cauterizes the hair, leaving behind a passage of nutrients to its interior, removes split ends and the impermeability of the hair caused by brushing and other chemicals," according to Laces and Hair's website, an upscale salon in Sao Paulo. At Laces and Hair, the hair procedure takes about two hours, and can be done every three months. However, SPA Dios, another salon in Sao Paulo, says the treatment lasts three-and-a-half hours, and is recommended every four months.
Here's how it works: Professional hairstylists first separate the hair into small sections, twist it using their fingers, and then put it under a flame. The burning causes the split ends to stick out, which the stylist then proceeds to trim, and then deep conditions the rest of the hair. The open flame is supposed to open up the hair follicle, making it more receptive to nutrients, and therefore, make the deep conditioning treatment more effecting, according to Elle.com.
Fans of this Brazilian treatment include Victoria's Secret runway model Barbara Fialho, who recently shared with Fashionista that she keeps her hair shiny and healthy by having it held over a lit candle when she goes back to Brazil. Fialho does not do a lot of the traditional chemical treatments because of all the chemicals her hair is already put through at work. "If I did [straightening treatments] I would lose all my hair! They're very strong," she told Fashionista. Fialho visits Laces and Hair to do her signature velaterapia procedure. Other women that go for treatments include Alessandra Ambrosio and Isabeli Fontana.
If holding a burning candle to your hair still leaves you skeptical, beauty editor at Vogue Brazil and founder of the popular Dia de Beauté blog, Victoria Ceridono, can vouch for the effectiveness of velaterapia. Ceridono, who also frequents Laces, said they do "embroidery" therapy where they cut only split ends throughout all the hair length. "You don't get shorter hair, but if you touch the treated side it feels so much smoother and healthier!" she said to Fashionista.
It is not clear how much the treatment costs, but one thing that we do know is that it isn't cheap. According to Euromonitor International, Brazilian women spent almost $9 billion on hair care in 2013, after all they are the second-biggest market for hair care in the world, after the U.S. Alongside the popular straightening treatments, the average Brazilian woman goes to the salon once a month to retouch their roots, and twice a month to hydrate. The reason behind this, said Maria Clara Povia, the beauty director at Marie Claire Brazil, "They color and straighten so much, so they have to go to the salon for deep conditioning."
While we're often warned about hot implements like hair dryers, and straighteners that can potentially lead to long term hair damage, how can holding a candle to our hair be any different? Perhaps there is a bold and daring group that will set their hair on fire to attain the Victoria's Secret runway bombshell look, but remember, whatever you do, do not try this at home.
Published by Medicaldaily.com