A Solution To World Hunger? Breadfruit, Gluten-Free 'New Superfood,' Is High In Carbs and Protein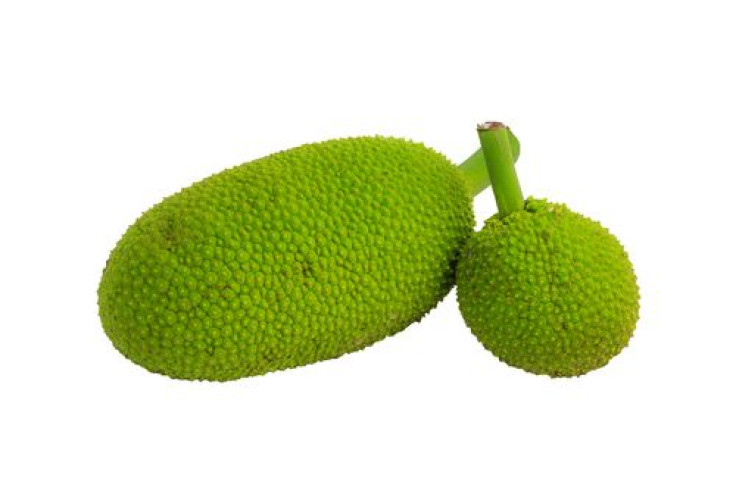 We've all heard the term "superfood" applied to fruits and vegetables because of their supposed extraordinary health benefits. These foods are considered powerful enough to help our cholesterol, combat heart disease and cancer, and to help us feel better without any side effects. Now, in an article published in New Scientist, researchers have found another superfood to add to the healthy bunch, an exotic fruit with a potato-like texture: breadfruit.
The fruit, also referred to by its Latin name artocarpus altilis, is widely consumed throughout the Pacific Islands and has been deemed capable of potentially feeding the world, all the while delivering a healthy dose of protein. Breadfruit is rich in vitamins and minerals and provides a gluten-free source with rich amounts of carbohydrates and protein. According to the U.S. Department of Agriculture, one cup, or 220 grams (g) of breadfruit contains 1,070 milligrams of potassium, 60g of carbohydrates, and 2.4g of protein.
A whole breadfruit, which weighs around 7 pounds, can provide the carbohydrate portion of a meal for a family of five. Scientists believe its unique qualities could potentially feed the world, as it can produce 450 pounds of fruit per season. A team of researchers at Hawaii's National Tropical Botanical Garden (NTBG) are now working with the charity Alliance to End Hunger to distribute this fruit to countries that do not have a regular supply of food.
Diane Ragone, a horticulturalist and member of Hawaii's National Tropical Botanical Garden (NTBG), who has been studying the plant since the 1980s, has traced back the roots of the fruit with the help of Nyree Zerega, director of the Graduate Program at Northwestern University and the Chicago Botanic Garden. This research has helped scientists learn how they can distribute breadfruit to countries with high rates of poverty and hunger. "Traditionally in Polynesia you would plant a breadfruit when a child was born, because that would guarantee food throughout the child's life" said Zerega, New Scientist reported.
This high source of energy, fiber, and protein could help curb the leading cause of death in children in developing countries: malnutrition. The exotic fruit contains significantly high amounts of fiber, which can decrease bad cholesterol and triglycerides, known to increase heart attack risks. According to the American Heart Association, an increase in fiber intake lowers LDL (bad) cholesterol levels in the body, while increasing HDL (good) cholesterol levels. This helps to protect the body against heart disease and heart attacks.
Experts are now investigating which varieties of breadfruit trees would be suitable for certain environments and climates, as well as local tastes for countries with a lack of food security. Moreover, they seek to identify which varieties of the fruit produce the best harvests and protein content. Josh Schneider a horticulturist and partner to the organization Global Breadfruit, previously told The Huffington Post Green: "Every time we plant one of these trees, we're reducing the susceptibility to famine and starvation in the country where the tree is going."
Currently, The Trees That Feed Foundation is planting more breadfruit trees in Haiti in hopes of feeding at least 1,000 orphans every day.
Published by Medicaldaily.com