South Africa Records Highest Blood Pressure Rate Worldwide, Researchers Fear 'Catastrophic' Results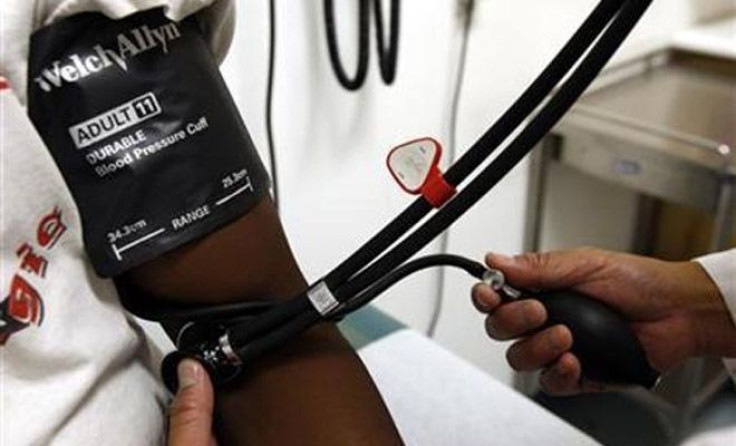 High blood pressure, also known as hypertension, is currently considered the leading cause of death among people in low- and middle-income countries. Data from the World Health Organization's (WHO) Study on Global Ageing and Adult Health (SAGE) has revealed that South Africa is home to the world's highest blood pressure rate.
Due to "lifestyle" risk factors including an obesity rate of 45 percent and a low activity rate of 59 percent, South Africans ranked in with the highest rate of hypertension at 78 percent. Russia came in at close second with 71 percent, while India reported a high blood pressure rate of 32 percent. India also achieved the highest rate of treatment effectiveness at 55 percent, a category that Russia recorded the lowest rate at 17 percent.
According to the American Heart Association, blood pressure refers to the outward force pushing on the walls of arteries leading to the heart. Currently, an estimated 76.4 million people in the United States have been diagnosed with high blood pressure. Hypertensive individuals are also at risk for various other health complications including coronary heart disease, stroke, and diabetes.
"In many countries public awareness about hypertension remains very low, and the condition is not prioritized by national governments or development agencies," Peter Lloyd-Sherlock, professor at the University of East Anglia, said in a statement. "Unless this changes quickly, avoidable deaths and disability resulting from hypertension are set to soar."
Researchers from the WHO, the Neuroscience Institute in Padua, Italy, and London School of Hygiene and Tropical Medicine in the UK, conducted a survey analysis that included 35,000 people over the age of 50 from China, Ghana, India, Mexico, Russia, and South Africa. Participants were diagnosed with hypertension if the average of two blood samples revealed 140 mmHg systolic blood pressure, 90 mmHg diastolic blood pressure, or if they had already been treated for high blood pressure.
One of the study's most unnerving findings revealed that a staggering 38 percent of hypertensive South Africans were not aware of their high blood pressure, and only half of all participants included in the survey were aware of their condition. Even though the majority of hypertensive patients received treatment for their condition, it was only effective in 24 percent of cases. Women and people living in rural areas of each respective country were at a higher risk of suffering from high blood pressure.
Lloyd-Sherlock and his colleagues fear if adequate steps aren't taken to both increase awareness over the health complications involved with high blood pressure and place easier methods for proper treatment, "catastrophic" consequences could be on the horizon for low- and middle-income countries like South Africa.
"Interventions should include awareness raising, prevention, and treatment," Lloyd-Sherlock added. "Ideally, we should persuade people to adopt healthier diets and lifestyles, but in the short run we should at least ensure they have access to effective treatment."
Source: Beard J, Minicuci N, Ebrahlm S, Chatterji S, Lloyd-Sherlock P. Hypertension among older adults in low and middle-income countries: prevalence, awareness and control. International Journal of Epidemiology. 2014.
Published by Medicaldaily.com