Spanish Police Perform 'Drug Bust' on Woman With Cocaine Breast Implants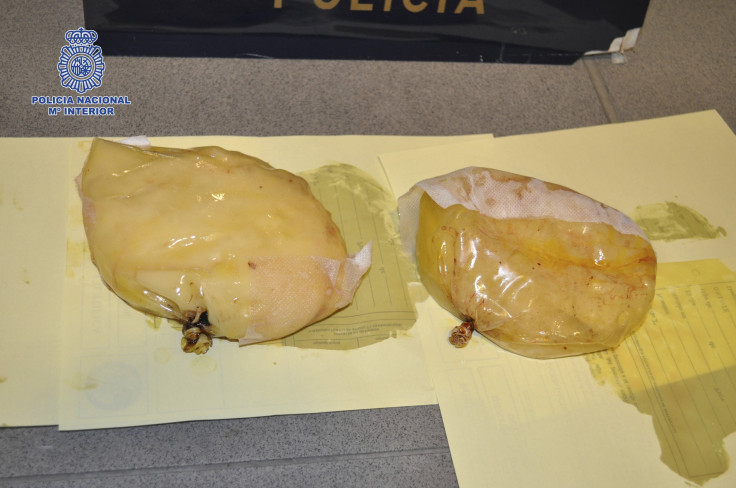 This gives a new meaning to term "drug bust".
A 33-year-old Panamanian woman, identified only as Yeraldina, is in a hospital in Barcelona, Spain today following the discovery of 2.9 pounds of cocaine in her breast implants. She says that drug traffickers forced her to undergo surgery to implant the illegal drug underneath her skin. The implants were made entirely of the drug and totaled a €100,000 street value, or over $130,000.
Yeraldina was caught when she was boarding a flight in Barcelona's El Prat airport following an overnight flight from Bogota, Colombia. The police became suspicious when she gave some unusual answers to their routine questions. She was subjected to a body search, which is how police officers uncovered a blood-soaked bandage covering recent wounds and a pale patch beneath her skin. She told officers that she had recently had plastic surgery, but the police sent her to the hospital nonetheless. She is recovering there, where she awaits further questioning.
The police say that she had two open cuts underneath her breasts. The Telegraph's source says that her life was probably saved when police uncovered what she was smuggling. A police officer says that it is unlikely that she would have lived much longer since her body was exposed to such a large quantity of the Class A illegal substance. Though she said that she was not in any pain, her wounds indicated otherwise.
Though it was the first time police in Barcelona had found cocaine smuggled in women's breasts, it is not the first time that the airport has seen inventive methods employed to smuggle drugs. Previous attempts have included cocaine shipments disguised as sculptures, a plaster cast made out of cocaine in order to "protect" a man's broken leg, and cocaine sculpted into the shape of a designer shoe.
Police in Europe regularly submit visitors from Latin America to questions in order to stem drug smuggling.
Published by Medicaldaily.com