Spotify Reveals Best Music To Workout To And Hip-Hop Tunes Top The List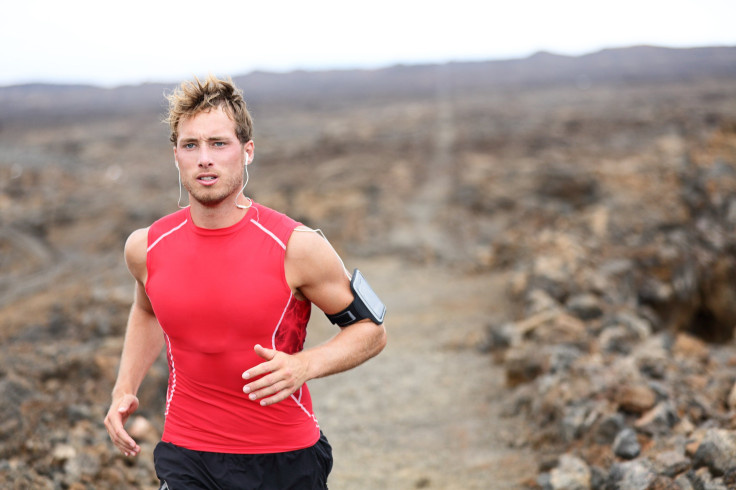 In 2012, Costas Karageorghis, a psychologist from London, described music as "a type of legal performance-enhancing drug." He's not alone in his opinion — a walk through any American gym, and you're likely to see a sea of earbuds. Spotify has recently given us a glimpse into what sort of music its users like jamming to when working up a sweat, and it turns out that hip-hop is at the top of most workout playlists.
On Monday, Billboard magazine officially revealed what Americans listened to when hitting the track, based on analysis of 1.5 billion playlists created by Spotify's 24 million users, the NY Daily News reported. Hip-hop music had an overwhelming majority, with 44 percent of streaming lists by Spotify users containing the urban city-born genre. Rock music came second, making up 28 percent of playlists and, surprisingly, electronic dance music (EDM), a genre of music specifically created for people to move with, only made up 16 percent of playlists.
Spotify came to these figures after analyzing over a billion playlists, paying special attention to those with titles such as "bicycling/cycling/biking" or "weightlifting/lifting," the Daily News reported. Spotify users' absolute favorite song to workout to is Eminem's hit "Till I Collapse," which was originally released over a decade ago. Eminem was also able to claim the No. 6 most streamed exercise song with "Lose Yourself," also from 2002. The No. 2 spot was snagged by Avicii with his 2013 EDM hit "Levels," and Fort Minor, who haven't released a song since Hurricane Katrina destroyed the Gulf Coast in 2005, somehow managed to hold the No. 3 top spot with "Remember The Name."
Top Ten Spotify Exercise Songs
1. Eminem - Till I Collapse
2. Avicii - Levels - Radio Edit
3. Fort Minor (feat. Styles of Beyond) - Remember The Name
4. Skrillex (feat. Sirah) - Bangarang
5. Avicii - Wake Me Up
6. Eminem - Lose Yourself - Soundtrack Version (Explicit)
7. Macklemore & Ryan Lewis (feat. Ray Dalton) - Can't Hold Us
8. Kanye West - POWER
9. JAY Z - Numb/Encore
10. Kanye West - Stronger
There is a more scientific reason to explain why many of us love to listen to music when working out. Andy Lane, an exercise scientist, told National Geographic that music is able to boost your physical performance. Based on Lane's study, music can sync your movements and increase stamina and metabolic efficiency. Others back up the theory that the link between music and exercise extends beyond the fact that we simply "like it."
According to Tom Fritz, a researcher studying the effects of music on human activity, music is also able to ease the pain of working out. This is because it helps to distract you from the exercise you are doing, National Geographic reported. "Given that exercise is often tiresome, boring and arduous, anything that relieves those negative feelings would be welcome," Karageorghis explained to Scientific American. The type of music people choose to sync up their movements to is largely dependent on their culture and personal preference, Scientific American reported. And it seems that for Spotify exercise junkies, it's hip-hop all the way.
Published by Medicaldaily.com