Stanford Researchers Have Created An Artificial 'Skin' That Allows Prosthetics To Feel Pressure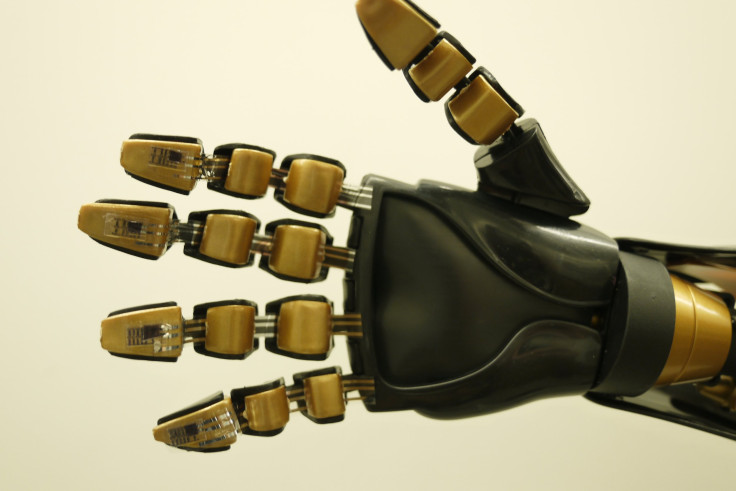 The world of prosthetics is getting more lifelike with every passing day. Among the most recent advancements, DARPA recently gave a prosthetic hand a sense of touch, while a German company has created limbs that are so lifelike, it's hard to tell real from fake. Adding to this list, scientists at Stanford University have now created a type of artificial skin that could also provide prosthetics with the feeling of touch.
The group of Stanford engineers, led by Benjamin Tee, describe how their artificial skin works in a report in the journal Science. The artificial skin is made of a clear plastic with a fingerprint-sized sensor embedded into it. The sensor is made of flexible, organic materials, and the "skin" takes in information based on the amount of force applied to the circuit before translating it into digital signals.
The researchers' main goal was to ensure that the sensors were able to mimic that same range of pressure that humans feel, thus creating a more lifelike "feel" with the sensors. To recreate these sensations, the researchers used carbon nanotubes, incredibly strong and small tubular cylinders. They fashioned these nanotubes into pyramid-like structures so that the more they were compressed, the more electricity they conducted.
These electrical impulses were then sent to the brains of mice almost like Morse code, replicating, in a way, the process by which impulses on our skin are captured and information is transferred. While the transfer of electrical signals from our skin to our brain is completely natural, the researchers found it hard to replicate the process in their "skin." According to co-author Alex Chortos, the old process of transferring these signals used a computer to turn the signals into something the body could use. But this process used far too much energy and added imprecise noise to the data that it sent to the brain, so the researchers created the sensor to eliminate the computer altogether.
Though the skin doesn't tell us exactly what the prosthetic "feels," it does reveal that the sensors can interact with actual brain cells. For now, the researchers are aiming to overhaul the sensor altogether, creating smaller, individual printed ones, called pixels, that can sense pressure a lot more accurately. Once that overhaul is complete, the researchers' next step will be to perform a trial on live animals. They believe their sensors will eventually be useful in products like wearable devices or computer displays. For people living with prosthetics, this new technology may soon allow them to once again know what it's like to feel with the body parts they've lost.
Source: Tee, B, et al. A skin-inspired organic digital mechanoreceptor. Science. 2015.
Published by Medicaldaily.com