STD-Detecting Condoms: UK Teens Invent A Condom That Glows In The Dark Around STIs
Leave it to teens to improve sex for the rest of us.
A group of three bright students from the Isaac Newton Academy in London, Daanyaal Ali, 14, Muaz Nawaz, 13 and Chirag Shah, 14, have invented a condom that glows in the presence of certain sexually transmitted infections. With a restraint unbefitting their age bracket, they've called their invention the S.T. EYE.
"We wanted to create something that makes detecting harmful STIs safer than ever before, so that people can take immediate action in the privacy of their own homes without the invasive procedures at the doctor's," Ali told the Daily Mail. "We've made sure we're able to give peace of mind to users and make sure people can be even more responsible than ever before."
The condom would work by being infused with molecules that luminesce in low light when they become attached to genetic material from bacteria and viruses known to cause STIs like chlamydia and syphilis. And yes, it would be color-coded, with green for chlamydia, yellow for herpes, purple for human papillomavirus (HPV) which causes genital warts, and blue for syphilis.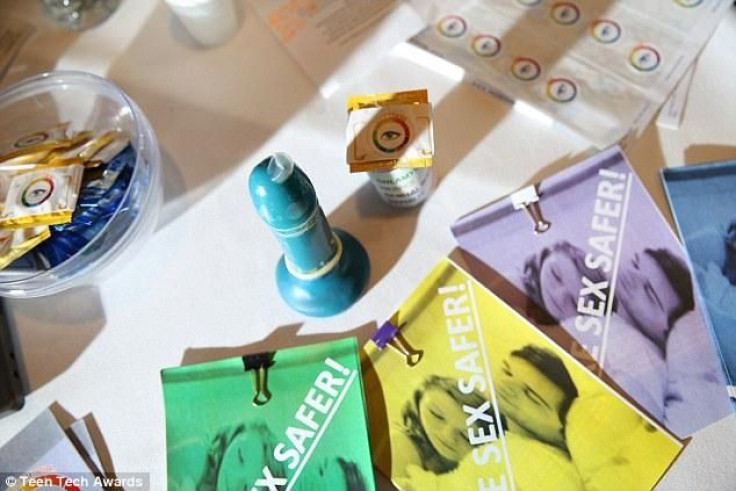 The idea was brilliant enough to win top honors (and about $1500) for the Health Category of the TeenTech awards this year, an annual competition that motivates 11 to 16 year olds to realize "their true potential and the real opportunities available in the contemporary STEM workplace."
Before we get our credit cards ready, it should be pointed out that the S.T. EYE is more a concept than a fully realized product. And as the Daily Dot's EJ Dickson notes, there is some, ahem, burning questions about how it might work in the real world.
Would the condom detect the user's or their partner's possible STIs? And how would we tell which is which? What about multiple STIs? (Which, ew) Is there any way to translate their idea over to sexual encounters that don't involve a condom? And will there be a support hotline for the inevitable and incredibly awkward conversations that'll happen when someone's crotch becomes a lot more brighter than it should?
Still, it's apparent that the boys behind the S.T. EYE are addressing a serious issue with the importance it requires. The Centers for Disease Control, in a 2013 report, concluded that more than 20 million new STIs are acquired annually in the U.S., primarily due to HPV, with direct medical costs of $19 billion a year. About half of these cases happen among young men and women but "too many of these infections go undetected because they often have no symptoms." These problems are only worse in developing nations.
But perhaps with innovative inventions like the S.T. EYE coming along the way, we can all learn to be a little safer out there.
Published by Medicaldaily.com