Study Shows Former Football Players Suffered From Brain Damage Due to Concussions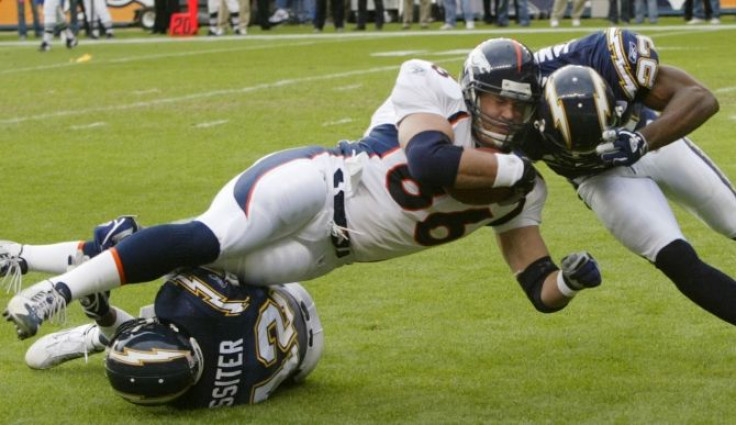 A new study on brains of deceased athletes has found that many suffered from chronic traumatic encephalopathy, a disease that is related to mood changes and depression.
The study was conducted by researchers from Boston University Center for the Study of Traumatic Encephalopathy and the Veterans Affairs Boston Healthcare System and is published in the journal Brain.
The study involved brain examination of 85 people that included 64 athletes and 21 veterans whose bodies were donated by their families.
Chronic traumatic encephalopathy (CTE) is a progressive degenerative disease of the brain found in athletes who suffered injuries to the head. The condition was known to affect people who played contact sports, especially boxers, since the 1920s. Symptoms of the disease include memory loss, confusion, impaired judgment, impulse control problems, aggression, depression, and, eventually, progressive dementia. These symptoms can occur after months or years after the head injury. The trauma to the brain triggers degeneration of brain tissue and the buildup of a protein called tau, according to BU Center for the Study of Traumatic Brain Injury.
Researchers found that 68 study subjects had signs of chronic traumatic encephalopathy.
Among the 64 athletes in the study group, 34 were former professional football players; six of them had played football only at school while nine had played football in college.
CTE was also found in people who had played hockey or were professional or amateur boxers or wrestlers. The disease also affected marines, soldiers and veterans who had served in the wars in Vietnam, Gulf or Afghanistan.
"Every time something like (a suicide) happens, I do worry about status of an individual's brain because brain trauma can change people," Chris Nowinski, co-director of the Center for the Study of Traumatic Encephalopathy, or CSTE, at the Boston University School of Medicine, told CNN.
17 cases of the head trauma that were examined in the study showed no signs of CTE. Researchers say that not all head trauma gives rise to CTE.
"While it remains unknown what level of exposure to brain trauma is required to trigger CTE, there is no available evidence that occasional, isolated or well-managed concussions give rise to CTE," said Robert Cantu, MD, a coauthor of the paper and co-director of CSTE in news release.
Others say that suicide or homicide involves many other reasons and not just CTE.
"There are a lot of reasons people commit suicide and commit murder. I'm not sure we can tag CTE onto this," said David Hovda, director of the UCLA Brain Injury Research Center, CNN reports.
Others studies have shown that sports account for nearly 10 percent of head and spine related injuries. Recent studies have suggested that American veterans in Iraq and Afghanistan may have had concussions that didn't get enough medical treatment.
Published by Medicaldaily.com