Stuntman Mark Sutton Plummets To Death: Olympic Games' James Bond Collides Into Mountain Ridge In Wing-Diving Accident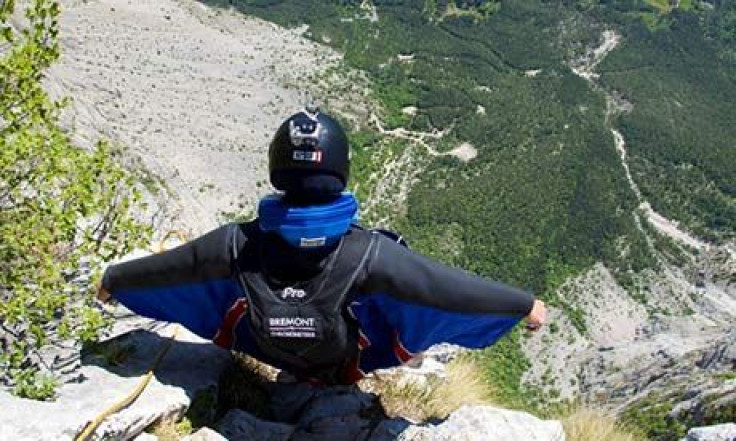 The stuntman who played James Bond in last year's Olympic Games opening ceremony, Mark Sutton, has died in a wing-diving accident near the French-Swiss border, NBC World News reports.
Sutton, 42, was an experienced stuntman and wing-diver who became most popular for his dazzling entrance into the 2012 London Olympic Games, where he and fellow stuntman Gary Connery dressed as James Bond and Queen Elizabeth II, respectively, and parachuted into Olympic Stadium from a helicopter. The accident occurred Wednesday morning as Sutton's suit failed, following another helicopter jump, this time from 10,000 feet.
Sutton was one of 20 apparent jumpers on Wednesday, who were revered as "among the best in the world," according to a police statement. The group was staying in the French town of Chamonix at the time.
Director Danny Boyle, who designed the 2012 opening ceremony, led the tributes to Sutton and spoke on his relationship with the stuntman while crafting the ceremony.
"Before we all went home we would often drink their health. They of course, as top stuntmen, never touched a drop but they sensed our need of occasional fortification," Boyle told the London Evening Standard. "All our thoughts are with his family, friends and colleagues. Thank you Mark."
Connery called his friend "smart, articulate, and funny," adding that "in any sport where you share a common bond you can make friends in a heartbeat that last a lifetime."
"My relationship with Mark was like that," he said.
Wing-diving resembles skydiving in its form — people jump from aircrafts with parachutes on their back — but requires special suits. Extra material is sewn between the arms and torso and between the legs in order to increase the suit's surface area. The end result is greater maneuverability in flight, as wing-divers can "catch the wind" to make themselves travel in nearly every direction.
Due to the added material, wing-divers have been said to resemble flying squirrels during their jumps.
Wing-diving was banned in Chamonix until last month, when the town's mayor decided to replace the outright ban with restrictions instead.
Sutton's fatal flight may have been recorded, as the group was initially called to the town to film a video on extreme sports. "The sun comes out for a beautiful day in Chamonix, two base wingsuit flights from Brevent then a spectacular paraglide with Mont Blanc and the glaciers glistening in the background," Sutton posted to his Facebook wall on Saturday. "First trip here to fly and loving it."
Published by Medicaldaily.com