Subway Chicken Sandwiches Are 50 Percent Soy And 'Other Fillers,' DNA Testing Finds; Company Denies Claims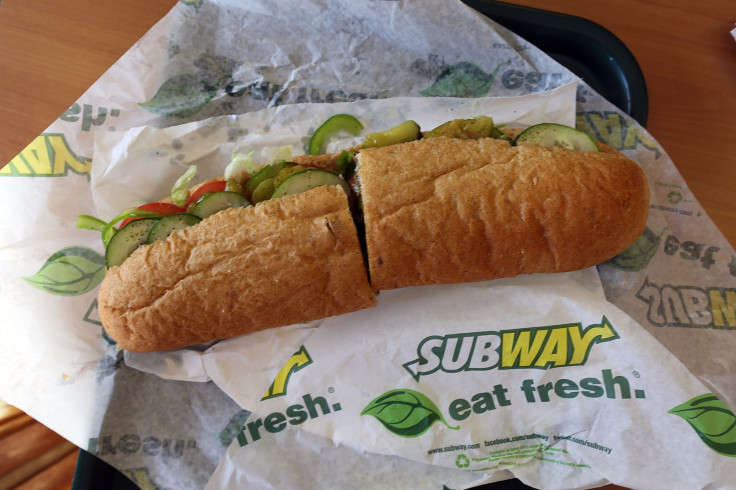 Subway sandwich shops are under a lot of heat after a recent investigation found that "chicken meat" in Canadian subway chains contains as much as 50 percent soy and other fillers. Although fillers are to be expected in fast-food meat, numbers as high as these are unusal. Subway denies the allegations and said it will open its own investigation.
Subway has asked the CBC program Marketplace, where the results were first released, to retract their findings.
The investigation was conducted by researchers from Trent University in Canada and results found that Subway's chicken strips and oven-roasted chicken contained just 43 percent and 54 percent chicken DNA, while also consisting of soy and other filler ingredients, Time reported. Subway could not confirm these results, stating that they were concerned with the findings; they report using only 1 percent soy in their meat to help add flavor and moisture.
Read: Judge Rules All Subway Footlong Sandwiches Must Be 12 Inches Long To Ensure Accuracy
Not only are the new findings disturbing, they also be a health risks. John Coupland, president of the Institute of Food Technologists and a professor of food science at Penn State University, who was not involved in the testing, told Time that although individuals with soy allergies usually stay away from fast food because most restaurants use small amounts of soy as fillers, having that much soy in a sandwich marketed as chicken could be "potentially dangerous," Time reported.
Fillers are traditionally added to food as a way to build up the weight of meat, which in turn lowers its cost. These fillers also help to bind the meat together, improve flavor, and promote consistency, ABC News reported.
Read: Is Subway's Marketing Deceptive?
"American consumers think they're being cheated out of their money when they hear that term," Kantha Shelke, chief science officer of Corvus Blue LLC, a Chicago food science and nutrition research firm, told ABC News. "But logically speaking, binders are a very natural thing. They prevent water from coming out during cooking. When you make meatloaf at home, you use breadcrumbs for the same reason—to hold the moisture."
This is not the first time that Subway has been criticized for its food standards. In 2014 the company came under fire for using azodicarbonamide, a chemical found in yoga mats and shoes to improve elasticity, in their bread, CNN reported. Although Subway emphasized that azodicarbonamide was safe and a common additive to bread, they agreed to remove it from their recipe.
While it may be true that all fast food restaurants use fillers, the Canadian report said that other fast food chains, such as McDonald's and Wendy's, had chicken patties with 80-90 percent chicken DNA.
Update 3/3/17: In a statement released on March 3, Subway said the Canadian report was false and misleading, and that the company has demanded a full retraction and apology. The company states that their own testing, conducted at Maxxam Analytics in Canada and Elisa Technologies, Inc., in Florida, showed less than 1 percent soy protein in chicken products.
"The stunningly flawed test by Marketplace is a tremendous disservice to our customers. The safety, quality and integrity of our food is the foundation of our business. That's why we took extra caution to test and retest the chicken. Our customers can have confidence in our food. The allegation that our chicken is only 50% chicken is 100% wrong," said SUBWAY President and CEO Suzanne Greco.
See Also:
Subway As Unhealthy As McDonald's: The Way A Sandwich Shouldn't Be
Published by Medicaldaily.com