Subway Sandwich Petition — Food Blogger Vani Hari Demands 'Healthy' Chain Remove Harmful Ingredients [VIDEO]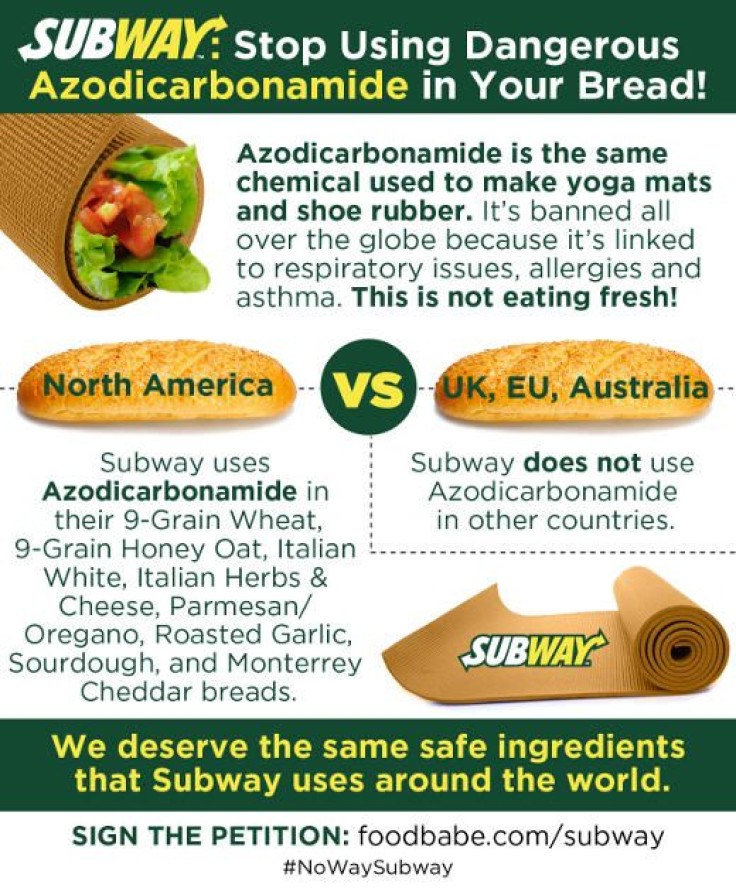 Famous food blogger and advocate Vani Hari, 34, has made her way into food battle spotlight again. This time, she called out the famous sandwich chain Subway for its dangerous bread ingredients — specifically, the harmful chemical azodicarbonamide. Her effort was pushed even further after first lady Michelle Obama endorsed the company for holding up to high health standards.
"This is what broke the camel's back," Hari said on her website, FoodBabe.com. "Not only is the First Lady of the United States duped by this company, but millions of North Americans."
Her main reason for singling out Subway? She says it's because it labels its foods as healthy and nutritious, but in essence, the chemical azodicarbonamide, used in the chain's bread, is a plastic-based additive and has been linked to allergies and asthma. It's even banned in other parts of the world.
"Not only is this ingredient banned in Europe and Australia, but you also get fined $450,000 dollars if you get caught using it in Singapore and can serve 15 years in prison," she wrote on her petition.
Her #NoWaySubway petition has raised over 58,487 signers in 24 hours, and Hari is not stopping there. She urged everyone to stop eating the sandwiches until the company had taken the harmful ingredients out of the bread. Subway responded in an email to The Associated Press saying that it would remove the chemical from its sandwiches, but it claims, in fact, it had nothing to do with the protest or Hari's efforts.
"The complete conversion to have this product out of the bread will be done soon," Subway said in a statement, ABC News reported. Subway did not provide further details.
"What really upset me was it was something I always ate while on the road that I thought was healthy — their nine-grain bread and veggie sub and all the marketing about low calories and weight loss," said Hari, ABC News reported, "And they have an American Heart Association logo and stamp on their sandwiches. I really had the illusion of healthy eating. When I saw what was actually in the bread, I was horrified."
Last November, Hari was also an impactful party in having the dyes removed from Kraft's Mac & Cheese. And she hopes to keep moving forward with her "food babe army" in efforts to remove harmful ingredients from many popular foods.
Take a look at her video urging Subway to remove the same additive found in yoga mats from its sandwich breads:
Published by Medicaldaily.com