Suicides Among Army Soldiers Rise, Most Caused By Underlying Mental Illnesses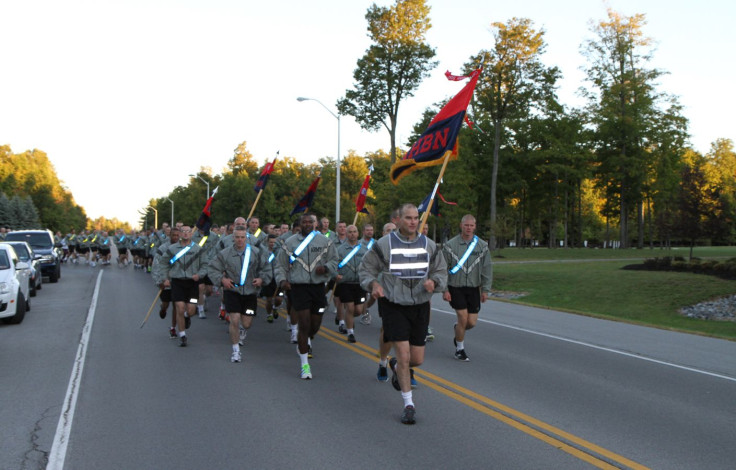 As American forces withdraw from the long war in Afghanistan, more soldiers continue to die by their own hand than are killed by enemy forces.
This year, 106 active duty soldiers and 102 reservists not on active duty have died in apparent suicides, the U.S. Army announced last week. By comparison, 91 U.S. service members — including 81 Army soldiers — died while supporting Operation Enduring Freedom in Afghanistan.
The military's effort to prevent suicide among the ranks has yielded mixed results, according to analysts, with some decreases among soldiers serving on active duty — perhaps given improved social support and mental health screenings. But suicides have risen among reserve component soldiers not on active duty, Army officials said.
Twelve soldiers died of suspected suicides in August, down from 19 deaths in July. Army officials continue to investigate the causes of death for three suspected suicides in July and two of the deaths last month. Of this year's total, officials have confirmed 51 of the apparent 106 deaths as suicides. The numbers represent a drop from the pace last year, when the Army reported 131 suicides among active-duty soldiers by the end of August.
However, suicides among reservists rose from last year, with eight suspected suicides among non-active duty soldiers during the month of August. Five of these soldiers were from the Army National Guard and three from the Army Reserve. Thus far, officials have confirmed that one of the eight deaths as suicide.
Army officials remain focused on preventing suicides, the leading cause of death among soldiers, year round, Army Vice Chief of Staff Gen. John Campbell commented on the issue in September, the service's "suicide awareness" month.
"This is something we can't just look at in one month," Campbell told reporters. "It has to be a 365-day mission to make sure we can provide our soldiers with the tools they need to deal with the stressors of everyday life, and help them understand that seeking help is a sign of strength, not weakness."
Study: Soldier Suicides Caused By Mental Illness, Unrelated To Combat Deployments
Campbell's comments on how the Army views mental health issues represent a dramatic change from the past, as the military health system continues to investigate the causes of suicide among soldiers. Contrary to popular wisdom and media reports, however, long deployments and combat stress are not killing soldiers. Rather, many suicides are caused by underlying mental illnesses among this population, according to recent findings from researchers at Walter Reed and the U.S. Department of Veterans Affairs.
Using longitudinal data from 2001, 2004, and 2007, investigators studied apparent suicides recorded in the National Death Index and the Department of Defense Medical Mortality Registry. They adjusted for such factors as age and sex. Interestingly, factors associated with length of deployment and combat were not associated with an increased risk in suicide. Instead, the researchers found that men were more likely than women to commit suicide, and those with depression, manic depression, or drinking problems were also more likely to commit suicide than others.
In an editorial accompanying the published research study, Charles C. Engel, a psychiatrist at the Uniformed Services University of the Health Sciences, reported that suicide among soldiers has been misunderstood by the government and public for years.
"The disappointing lack of valid and generalizable epidemiologic research from which to confidently ground clinical and policy decisions has only helped to fuel debates about the magnitude and causes of the problem and how to best approach it," Engel wrote. "Military suicides are sometimes characterized as epidemic in proportion, and many observers appear to assume that the incidence is escalating out of control as a consequence of prolonged combat and associated stress."
In fact, suicide among soldiers remains "rare," despite a sharp rise in deaths since 2005, Engel wrote, adding that any successful effort to reduce suicides would focus less on "outdated" ideas and more on diagnosing existing mental illnesses within the ranks.
Sources: LeardMann, Cynthia a., Powell, Teresa M., Smith, Tyler C., Bell, Michael R., Smith, Besa, Boyko, Edward J., et al. Risk Factors Associated With Suicide In Current And Former US Military Personnel. JAMA. 2013.
Engel, Charles C. Suicide, Mental Disorders, and the US Military: Time to Focus on Mental Health Service Delivery. JAMA. 2013.
Published by Medicaldaily.com