Supplement Warning: 6 Signs 'All Natural' Sexual Performance Enhancers For Men May Be Bogus Or Harmful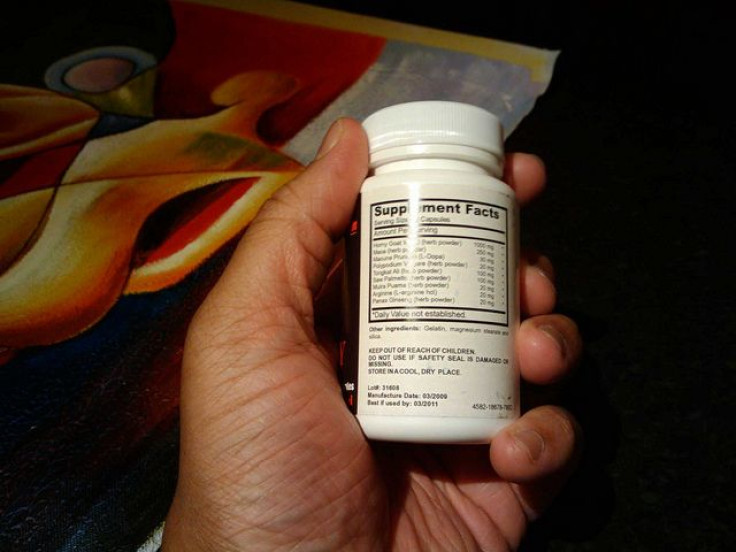 The Food and Drug Administration says those "all natural" dietary supplements promising to enhance a man's sexual performance or increase sexual stimulation might contain hidden drugs or undisclosed ingredients that might endanger your health. Nearly 300 products tested by FDA labs were found to be tainted.
While the government agency is unable to test every single dietary supplement on the market, these six warning signs should tip off consumers that a product is a fake that could be harmful:
Promises quick results (within 30 to 40 minutes)
Is advertised as alternatives to FDA-approved prescription drugs
Is sold in single servings
Advertises via unsolicited emails (spam)
Has a label written mainly in a foreign language
Has directions and warnings that mimic FDA-approved products
"We're finding an alarming number of these products sold online and in retail stores. They're often sold in single-serving sizes in gas stations or vending machines," Dr. Gary Coody, FDA's national health fraud coordinator, said in a press release. "We've seen pills, coffees, chewing gum, and dissolvable oral strips that contain hidden drug ingredients or untested chemicals."
Unknown Interactions
Among the 300 or so products found to be tainted, the FDA discovered some that contained the same active ingredient in prescription drugs, such as Viagra, Cialis, and Levitra. Not only would this disqualify a product as "all natural," but more importantly, companies that make these products may put too low a dose in some pills, too high a dose in others. This could be dangerous, possibly life-threatening.
In fact, one of the tainted products discovered by the FDA included 31 times the prescription dose of tadalafil (the active ingredient in Cialis), plus it had been combined with dapoxetine, an un-approved prescription antidepressant. According to Coody, some products had as many as six different ingredients in combinations never before studied. In such cases, doctors have no idea what that might do to someone.
Even products containing undisclosed herbal additives also pose health risks to the men who take them. In unusual combinations or amounts, even natural ingredients may become harmful, while for men with allergies, an ingredient that isn't listed on the label could trigger a reaction. One more risk for unsuspecting men: any unlisted drug tucked inside a deceptive product could interact with the legitimate prescriptions they are taking, such as heart disease medicines, and cause an unforeseen reaction.
The FDA notes erectile dysfunction could be a sign of an underlying medical condition requiring treatment and care. To take an unknown supplement instead of seeing a doctor and addressing the issue might cause your health to become worse. This YouTube video created by the FDA illustrates the problem.
Published by Medicaldaily.com