Surgeons Successfully Remove Giant Shell-Like Mole from Colombian "Turtle Boy"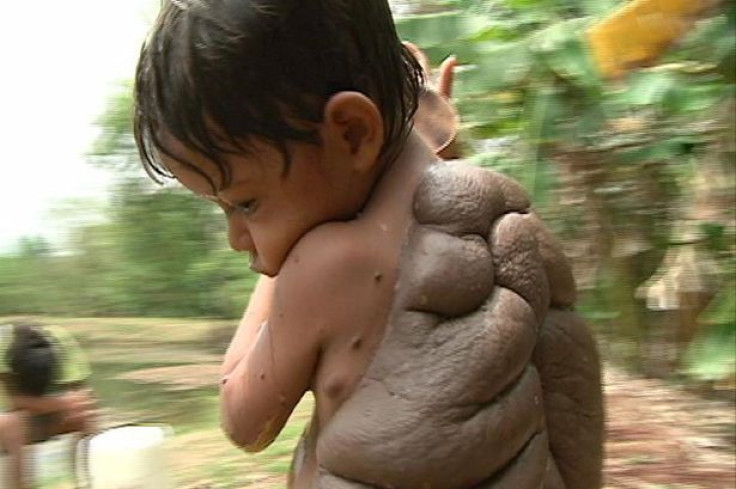 Surgeons have successfully removed an enormous shell-like mole that completely covered the back of a Colombian child dubbed "turtle boy" who suffered a rare condition called Congenital Melanocytic Nevus.
Six-year-old Didier Montalvo and his family had been ostracized by superstitious residents in the small Colombian village where he lived in fears that he had been "touched by evil spirits," which meant he was not able to attend school or be baptized.
"I want to grow up," Didier said to reporters on Channel 4's Bodyshock documentary Wednesday night. "But the mole won't let me."
After hearing Didier's story, leading UK plastic surgeon Neil Bulstrode Great Ormond Street Hospital, flew to Bogotá, the capital of Colombia, to help a team of surgeons remove the Didier's birthmark that has grown so large that doctors feared that it could become malignant.
Didier had to undergo several painful operations and a series of skin grafts for surgeons to successfully remove to mole attached to his back.
Bulstrode told The Mirror that Didier's case was the worst he had ever seen, compared to other Congenital Melanocytic Nevus patients.
"Didier's CMN was the worst case I had ever seen due to the size and bulk of the lesion. Effectively three quarters of the circumference of his body was affected. Often people have CMN that are much flatter and are therefore much easier to care for and deal with," he said.
"When I saw the pictures of Didier, one of my first feelings was that if we could remove it, we would significantly improve his quality of life," Bulstrode added.
The cause of CMN is unknown, but some experts have suggested that the change is triggered by a gene mutation that alters the development of skin cells in the embryo.
Published by Medicaldaily.com