Sushi With Raw Tuna Could Be To Blame For 9-State Salmonella Outbreak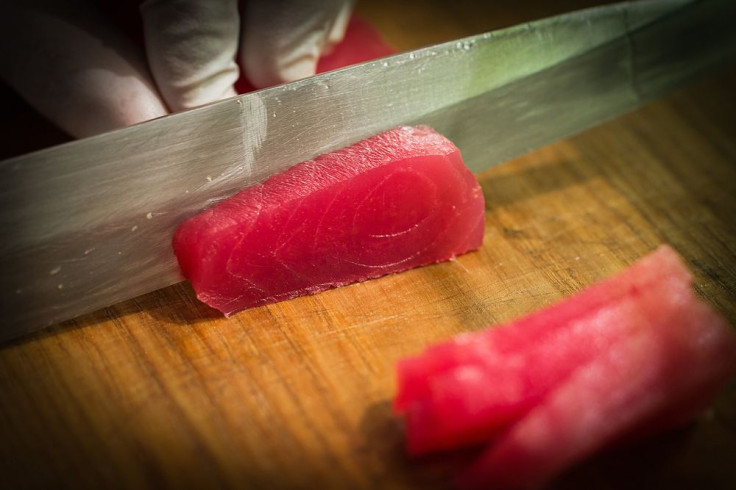 State health officials have been scrambling to identify the source of a Salmonella outbreak that has currently affected nine states. Now it appears the 53 people left sick by the outbeak, including at least 10 who were hospitalized, may have consumed raw tuna found in sushi. On Thursday, the Centers for Disease Control and Prevention confirmed that most patients affected by the outbreak reported eating sushi with raw tuna prior to becoming sick.
"As the investigation continues, this is a good reminder to Californians that there are sometimes risks when eating raw or undercooked meats, fish, or poultry," Dr. Karen Smith, director of the California Department of Public Health (CDPH), said in a statement. "This is particularly true for young children, the elderly, or people with compromised immune systems who may be at an increased risk of severe illness."
The bacterium at the source of the outbreak, the Salmonella Paratyphi B variant, often leads to illness with symptoms that include diarrhea, fever, and abdominal cramps 12 to 72 hours after exposure. Among the 53 people affected by the outbreak as of May 21, 2015, 31 are in California, 10 in Arizona, six in New Mexico, and one each in Illinois, Mississippi, New Mexico, South Dakota, Virginia, Washington, and Wisconsin.
Although there are have been no deaths tied to the outbreak, at least 10 people have been hospitalized, including a 1-year-old. Interviews conducted by the CDC, CSPH, and Food and Drug Administration revealed that 94 percent of patients involved in the outbreak had reported eating sushi containing raw tuna a week before getting sick. A common brand and supplier tied to the raw tuna has not been identified.
"The FDA is evaluating and analyzing records to determine whether there is a common source of tuna," the FDA explained in a statement. "In this effort, the FDA works with its investigational partners to identify clusters of people made ill in separate geographic areas and works to trace the path of food eaten by those made ill back to a common source. This is labor intensive and painstaking work, requiring the collection, review, and analysis of hundreds and at times thousands of invoices and shipping documents."
According to the CDC, people at higher risk for severe foodborne illnesses, including children younger than 5, adults older than 65, pregnant women, and people with weakened immune systems, should avoid any raw fish or raw shellfish. Salmonella causes one million illnesses in the U.S., including 19,000 hospitalizations and 380 deaths. Investigators are still working to identify the direct source of the outbreak.
Published by Medicaldaily.com