Swiss Billionaire and Belgian Baron Sentenced 16 Years for Asbestos-Related Death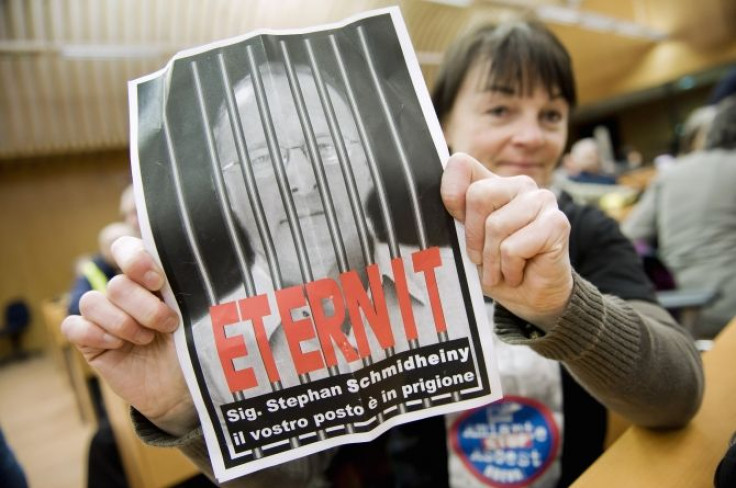 A Swiss billionaire and a Belgian baron were convicted and sentenced to 16 years behind bars by an Italian court on Monday for negligence that resulted in more than 2,000 asbestos-related deaths.
Stephan Schmidheiny, 64, the ex-owner of a company making Eternit fiber cement, and Jean-Louis Marie Ghislain de Cartier de Marchienne, 90, a major shareholder, were sentenced in absentia, after they were found guilty of triggering an environmental disaster by failing to comply with safety regulations.
The pair have been absent from court throughout the trail and their defense lawyers had denied the charges and said that both Schmidheiny and de Cartier de Marchienne did not have direct responsibility for the Italian company.
The pair was also ordered to pay 30,000 euros ($37,220) in damages to civil parties in a payout that is expected to amount to tens of millions of euros.
Their charges carry a maximum of a 12-year prison term, but prosecutors had pushed for a harsher punishment arguing that the pair's actions continued to affect victims and that Eternit's plants had spread asbestos fibers in parts of northern Italy when they allowed the production's left-over powder of roof coverings and pipes to float through the air.
According to BBC, some 1,500 relatives and supporters of the victims watched the verdict from three large screens streaming the final hearing live in Turin.
"This trial will go down in history... but it will not bring my dad back," Piero Ferraris, whose father Evasio died in 1988 of lung cancer after working in a local Eternit factory told AFP reporters.
"I have never seen such a tragedy. It affects workers and inhabitants ... it continues to cause deaths and will continue to do so for who knows how long," prosecutor Raffaele Guariniello said in his closing speech in November.
International firm Eternit, which went bankrupt in 1986, six years before before asbestos was banned in Italy in 1992, had four plants in Italy where workers had been exposed to asbestos without safety equipment until the 1980s, and more than Reuters reported that more than 6,000 people including former employees and local residents were seeking damages in the case.
The four plants were based in Casale Monferrato and Cavagnolo in the Piedmont region, Rubiera in Emilia and Bagnoli in Campania.
Asbestos is now banned in the majority of Western countries but is still used as building insulation in developing countries. Asbestos fibers can cause lung inflammation and cancer when inhaled, and symptoms can take up to two decades after exposure before they surface.
Asbestos had become widely used among manufacturers and builders in the late 19th century because of its absorption qualities and resistance to fire, heat and electrical damage.
The trial had begun in 2009 after a 5-year investigation, and was deemed the biggest of its kind against a multination for asbestos-related deaths.
"It is a historic verdict ... But the battle against asbestos does not end here, even with an exemplary sentence," Italy's Health Minister Renato Balduzzi told AFP.
"It is not a local battle, but a national one, a worldwide one. The Turin verdict shows that Italy is doing its part," he added.
Schmidheiny had look control of the Swiss Eternit Group from his father in 1976, and De Cartier De Marchienne had been a shareholder and manager of Eternit in Italy since the early 1970s.
A statement on behalf of the Belgium aristocrat, De Cartier De Marchienne, in 2009 said that the risks associated with asbestos were not well known at the time.
Published by Medicaldaily.com