Sylvia Hatchell, UNC Women's Basketball Coach, Temporarily Steps Down After Leukemia Diagnosis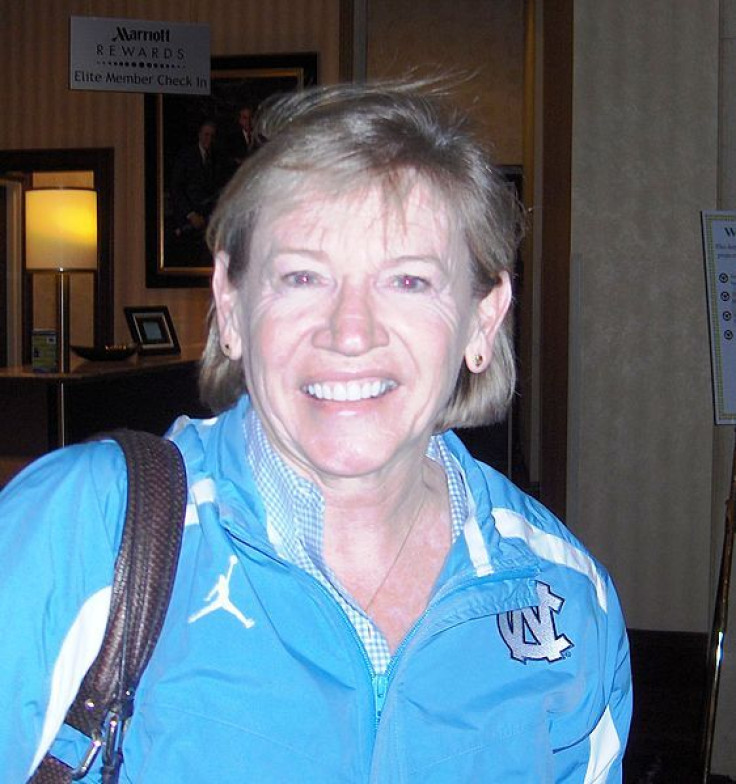 Basketball Hall of Famer and coach of the University of North Carolina (UNC) women's basketball team, Sylvia Hatchell, will step down from her coaching duties to defeat her biggest rival yet — cancer.
Coach Hatchell publicly announced in a UNC press release on Monday that she will temporarily step away from her on-the-court coaching after receiving her leukemia diagnosis. "I will remain very much involved with my team and day-to-day operations here at UNC and expect to return to my sideline responsibilities as soon as possible," Hatchell said in a statement, Fox Sports reports.
Hatchell confidently leaves her team in the hands of her veteran staff. The Tar Heel women's longtime assistant, Andrew Calder, will be in charge of the program but Hatchell will still be actively involved with the UNC team while she pursues treatment.
'"…Coach Hatchell and Coach Calder have been together so long, the program won't miss a beat on how things are taught. They're like brother and sister, and that bond is so incredibly strong. I know he'll do his best for her," Charlotte Smith, the former Tar Heels star who is now head coach at Elon, told ESPN.
According to the Mayo Clinic, leukemia treatment options are based on the patient's age, overall health, type of leukemia, and the disease's progression. In battling leukemia, chemotherapy is considered the major form of treatment. Chemotherapy uses chemicals to kill the leukemia cells either by drugs that come in a pill form or through an injection directly into the patient's veins.
Hatchell will seek treatment at the UNC Lineberger Comprehensive Care Center on the Chapel Hill campus under the supervision of Dr. Pete Voorhees, an oncologist and associate professor in UNC's School of Medicine.
''Sylvia remains strong and in good spirits,'' Voorhees said in a statement, reports Fox Sports. ''She is physically and mentally tough, and this will serve her well on her journey. We are optimistic that she will do well."
The UNC women's basketball team has gone through cancer battles in the past. Jessica Breland, one of Hatchell's players, had to redshirt the 2009-2010 season at UNC while undergoing treatment for Hodgkin's lymphoma — a cancer of the lymphatic system that compromises the body's ability to fight infection. Hatchell was a "tireless advocate" who treated Breland like "she was her own child," Smith said to ESPN.
Smith, the UNC women's basketball team, and the Chapel Hill community have sent their love and support for Hatchell who will face her biggest challenge in her career. Hatchell's support from her immediate family includes her husband, Sammy, who is also a coach, and her 24-year-old son, Van, who also a big part of the Tar Heels family.
"My veteran staff and team will be well prepared and meet any challenges until my return. Don't forget I am a Tar Heel woman!" Hatchell proudly said in a statement.
Published by Medicaldaily.com