Synthetic Human Cadaver To Be Used By Medical Students At The University Of Arizona Instead Of Actual Humans
It might look like a prop for a new sci-fi film, but in actuality it's a new medical device that could prove useful to modern medicine. It's called a SynDaver, or a synthetic cadaver, and it is being used by the students at the University at Arizona in lieu of human cadavers.
Last month, Phoenix Mayor Greg Stanton, Dr. Stuart Flynn, dean at the University of Arizona College of Medicine-Phoenix, and Christopher Sakezles, president of SynDaver Labs, said that the company and the medical school would have an exclusive collaboration.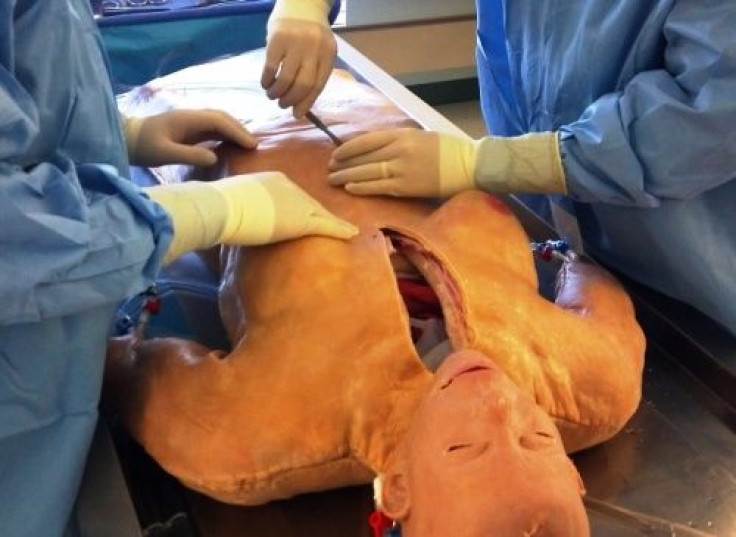 Instead of poking and operating on animals, students would be able to use these cadavers which would simulate a real human body.
"Now our students learn how to start an IV on something that very much emulates a human arm, for instance, but they get to practice over and over again, which you and I wouldn't like as a patient," Flynn said, according to TusconWeekly.
The SynDaver is unique because it allows students to substitute live animals, human cadavers, and other models in these tests.
The synthetic cadaver doesn't come cheap — at $40k each, this "3D jigsaw puzzle" can pump synthetic blood through and from the body. SynDaver Labs also makes individual organs, muscles, bones, and other vascular components.
Real human cadavers only cost about $1,000, though the prices of different body parts vary. So why would any school spend this much money on a synthetic cadaver? It's reusable, it can be upgraded, and is far less cruel.
"Now they have these task trainers that are realistic and life-like that they can practice their procedures on prior to doing it on a live patient," Dr. Teresa Wu, an emergency room physician at Maricopa Medical Center, said in a statement.
Published by Medicaldaily.com