Syria's President 'Not Worried' About Protests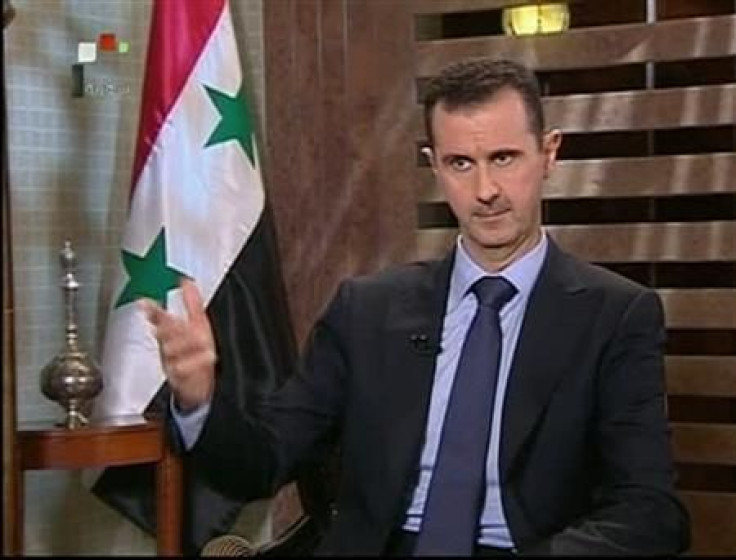 Syrian President Bashar al-Assad said he was "not worried" about protests in various cities in the country calling for him to step down, even as security forces clash with civilians, some defectors from the military and Arab League ministers call for and end to the violence.
"We are capable of dealing with it… I am not worried," he said in a television interview on Sunday, according to the Sunday Telegraph.
Al-Assad said the security situation had become "more militant" in recent weeks.
The United Nations estimates more than 3,000 civilians have been killed in clashes related to the protests, which have called for al-Assad to step down, and allow greater speech, press, assembly and political freedoms.
Syrian Forces Continue Crack Down
Syrian forces tanks shelled apartment buildings in the city of Homs where military defectors were thought to be hiding and three civilians were killed, activists said Saturday.
Video of tanks firing on multi-story buildings during the day could not be independently verified, according to Aljazeera English.
The Syrian Observatory for Human Rights said three civilians were killed in Homs on Saturday, one by a sniper and two by machine gun fire between Syrian, according to Reuters.
Residents said tanks fired anti-aircraft guns to hit ground targets as well as machine guns in the old district of Bab Amro, according to Reuters.
The UK-based Syrian Organization for Human Rights said Saturday clashes broke out late Friday between army deserters and Assad's forces. Seventeen pro-Assad soldiers were killed when the defectors attacked two security posts in the city, the organization said.
Syrian security forced killed at least 44 people, mostly in the cities of Hama and Homs, activists said Friday.
Regional Pressure
Regional pressure is also increasin on al-Assad to end the violence.
The Arab League's committee on the Syrian crisis said it had sent an "urgent message … to the Syrian government expressing its severe discontent for the continued killing of Syrian civilians.
The committee said it had "expressed hope that the Syrian government would take action to protect civilians."
The Arab League officials met with Syrian President al-Assad this week, urging a resolution to the matter. Al-Assad and League representatives will meet again on Oct. 30.
China Calls for Non-Interference
Also on Friday, China's envoy to the Middle East, Wu Sike visited Syria, saying he supported regional efforts to help resolve the crisis, but said the solutions should come from within Syria, according to Al Arabiya News.
China, along with Russia vetoed a U.N. Security Council resolution condemning Syria for a crackdown on protesters that imposed targeted measures against regime unless it stopped the violence.
Published by Medicaldaily.com