Taco Bell Reveals Ingredients In Its 'Signature' Beef Recipe: No More Mystery Meat?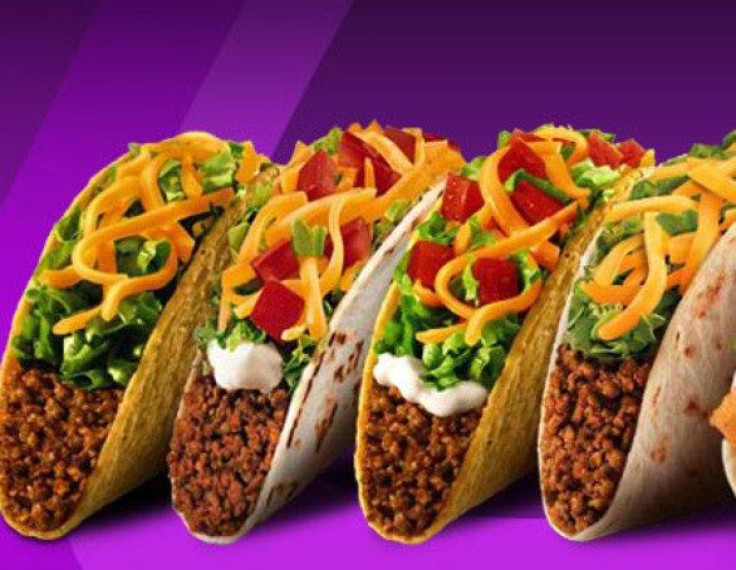 Curious about what beef from Taco Bell actually consists of? You're not alone. In fact, so many people were worried about what they were getting in a beef taco from Taco Bell that the fast food chain recently unveiled an ingredient list for its supposed "Grade D" meat. The company claims its seasoned beef recipe is 88 percent premium beef, so let's find out what ingredients are in the remaining 12 percent of its "signature recipe."
Taco Bell does admit that some of its ingredients may sound weird but are in compliance with the Food and Drug Administration's food safety standards. For example: "Cellulose is a safe carbohydrate found in the cell walls of plants and helps with water and oil binding. You'll find it in everything from cheese and vitamins to bread and pasta."
Maltodextrin may seem like a harmful chemical, but it is actually a mild form of sugar that can be found in natural soda and is used to balance the taco meat's flavor. Trehalose is also a natural occurring sugar used to improve the taste of beef seasoning. Cocoa powder and caramel color, also known as caramelized sugar, are used as food coloring to give the taco beef its brown coloring.
Surprisingly, Taco Bell's beef contains no "fillers," "extenders," or monosodium glutamate (MSG). However, it does contain a limited amount of oats to keep it moist, citric acid to enrich flavor, and sodium phosphate to give it the right texture. Soy lecithin, a staple ingredient in chocolate bars and salad dressing, is also used to prevent substances like oil and water from separating.
Answering to its allegations of serving "Grade D" meat, Taco Bell pointed out that the U.S. Department of Agriculture does not offer such a rating. Instead, the company says its meat is 100 percent premium real beef that is USDA-inspected, similar to meat found at your local grocery store. Taco Bell also claims it is only able to offer its taco meat at such a low price because it is one of the largest beef buyers in the U.S. and receives discounted prices after buying upward of 300 million pounds of seasoned beef each year.
"We sell more than 2 billion tacos every year, so it's important our seasoned beef consistently maintains the proper standard of quality for every customer. In case you're curious, here's our not-so-secret recipe. We start with USDA-inspected quality beef. Then add water to keep it juicy and moist. Mix in Mexican spices and flavors, including salt, chili pepper, onion powder, tomato powder, sugar, garlic powder, and cocoa powder. Combine a little oats, yeast, citric acid, and other ingredients that contribute to the flavor, moisture, consistency, and quality of our seasoned beef."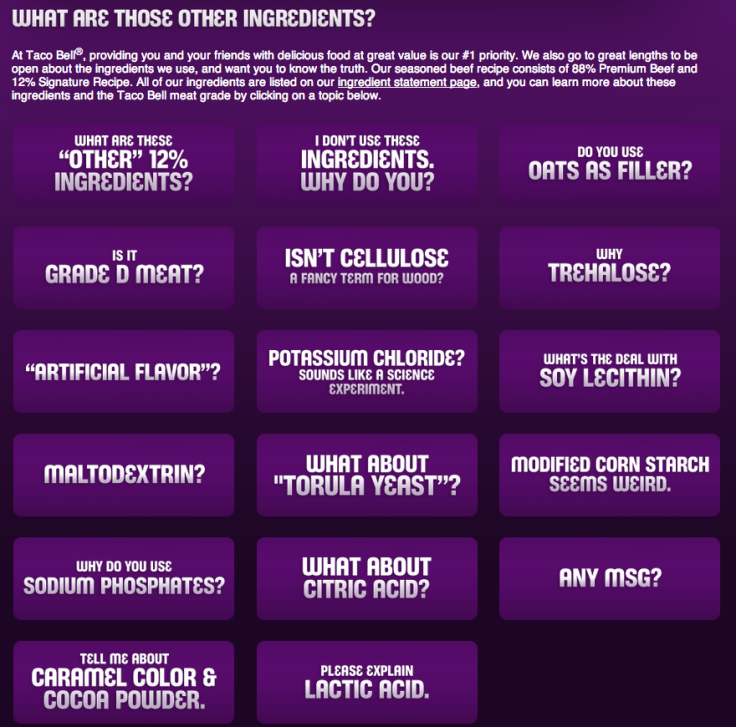 Published by Medicaldaily.com