Take A Deep Breath For Stress Relief: Yoga Could Help Improve Mood, Reduce Waist Size, Study Shows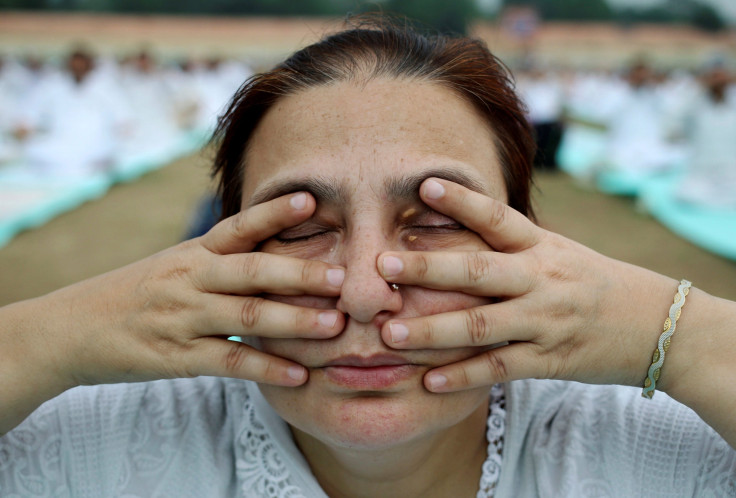 Regular practice of yoga can help reduce stress and improve mood, a new study conducted on a small group of women shows. A report published in the Journal of Psychophysiology, showed how women who practiced yoga had lower levels of psychological distress as well as less perceived stress compared to the women who did not practice yoga.
Researchers in Australia studied 116 adult women who reported experiencing moderate to very high levels of stress for at least a month. These women were given the assignment to either practice regular yoga or choose not to do yoga at all. The women in the yoga group were given a task to complete 16 one-hour yoga classes, twice a week, over an eight week period, though women could also do just one class a week, according to the study. About 40 women went to at least one class a week for eight weeks.
"Over the years I noticed how practicing yoga regularly helped me balance my own stress levels and find joy through challenging periods," Kaitlin N. Harkess, a PhD candidate at the University of Adelaide in Australia and a yoga teacher, who conducted the study after personally seeing a major change in her mood after practicing yoga, said according to the Time. "I had students telling me their own stories of psychological and physiological change, which I found really inspiring."
The women in the yoga group not only saw a change in their stress levels but also saw experiencing positive emotions and improved mood conditions. Yoga also reduced the waist size of these women and helped them become more flexible.
"No between-group differences were found in mindfulness, well-being, and negative effect," the report said.
Earlier research on yoga has shown that the age-old practice can lower risk for heart problems as well as lower symptoms of pain and depression.
"I think that the take-home message is that further investigation of yoga practice's relationship with mental health and physical health is warranted," Harkess reportedly said.
Published by Medicaldaily.com