Taking Cardiac Arrest Patients To The Hospital Could Be Detrimental To Survival, Misuse Of EMS Services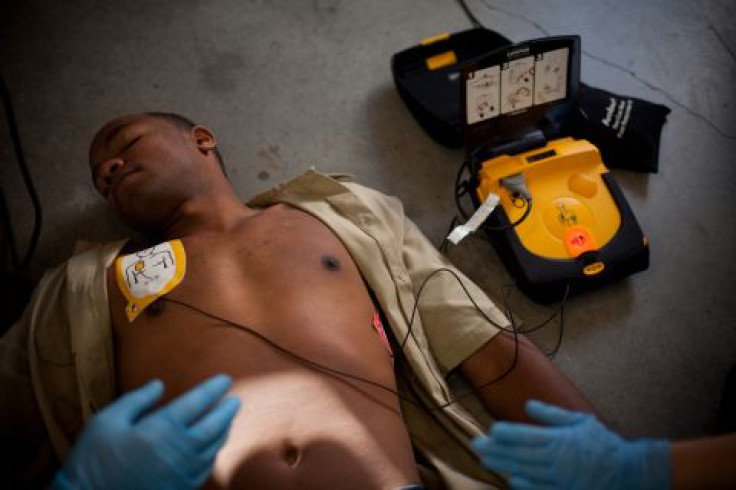 Cardiac arrest, not to be confused with a heart attack, is the result of a malfunction in the heart's electrical system leading to over 420,000 emergency medical service (EMS) assessments each year in the United States. Jonathan Benger, professor of emergency care at the University of the West of England, now claims that "a well trained and equipped ambulance service" is the most effective care that can be provided for a cardiac arrest patient and that such patients should not be moved to the hospital before or during immediate cardiopulmonary resuscitation (CPR).
According to the American Heart Association, cardiac arrest death occurs when the heart suddenly stops working properly, which is often caused by arrhythmias, including abnormal or irregular heart rhythms. Death tends to occur within minutes of the heart stopping. The most efficient way to reverse cardiac arrest is through CPR and the use of a defibrillator, which is used to shock the heart and establish a normal heart rhythm within minutes.
"We would need to halt 2,178 ambulance transports to prevent a single injury, but that effort would result in more than 20 unnecessary deaths," Benger, who is also a Consultant at University Hospitals Bristol NHS Foundation Trust, said in a statement. "Ambulance staff must be empowered to use their skills to optimise CPR, achieve early defibrillation, and deliver the best possible care at the scene, with no thought of transport until spontaneous circulation has returned or until it becomes clear that the patient has no chance of survival."
Benger suggests that patients only be transported to a "heart attack" center for ongoing care once return of spontaneous circulation (when sustained cardiac activity resumes) has been established. However, if ROSC is not established than Benger said the patient's death "should be accepted and made as dignified as possible." Benger indicated that out of 60,000 people a year in the UK who experience a significant medical emergency due to a cardiac arrest, less than 10 survive to be discharged from the hospital. He also contends that under rare circumstances when hospital transport is justified it should be made by a team of specialists.
"For the vast majority of patients, however, it is time to call a halt to transport in cardiac arrest and to concentrate on providing the best possible resuscitation skills at scene, empowering and supporting ambulance staff," Benger added. "More must also be done to educate staff and the public about best possible care and what to expect when cardiac arrest occurs outside hospital."
Source: Benger J. BMJ. 2014.
Published by Medicaldaily.com