Tanning Beds Are Losing Popularity Among High School Teens, But There's Still More Work To Do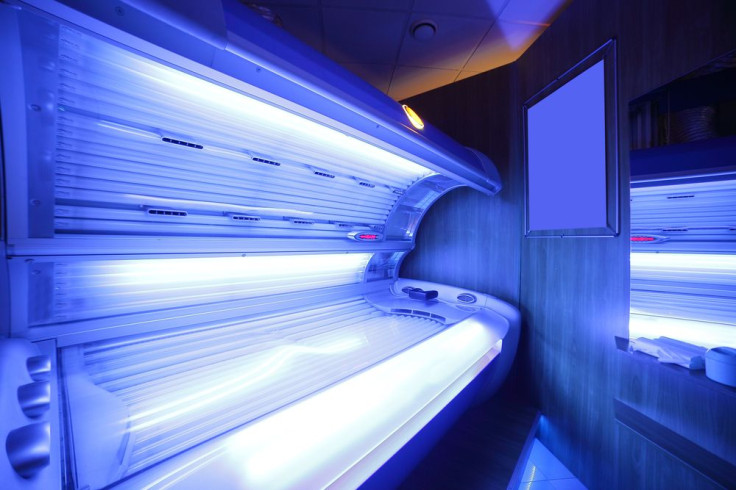 Whether it's out in the sun or, more recently, indoors on a tanning bed, the popularity of tanning hasn't dropped in decades. Studies have shown that teens see tanned models as healthier and more attractive, and some people even derive confidence from being tanned. But the fact is that people who are tanned are putting themselves at risk of cancer. And despite a downward trend in teen use of indoor tanning beds, according to a new report from the Centers for Disease Control and Prevention (CDC), there's still more work to do.
The CDC report found that there was a downward trend in reports of indoor tanning among high school students between 2009 and 2013. Overall, teen girls' use of indoor tanning devices like sunlamps, sunbeds, and tanning booths dropped from just over 25 percent in 2009 to 20.2 percent in 2013. Among boys, who tan far less, these rates dropped from about seven percent to 5.3 percent. Still, about 10 percent of girls reported indoor tanning frequently, which was defined as 10 or more times per year. Only two percent of boys, meanwhile, reported tanning frequently. By 2013, the CDC estimated that about 1.5 million girls and 0.4 million boys (1.6 million of them under 18) used tanning beds to get that bronze shine.
"These decreases in indoor tanning may be partly attributable to increased awareness of its harms," the researchers wrote. "In 2009, the World Health Organization classified indoor tanning devices as carcinogenic to humans, and several studies have demonstrated that indoor tanning increases the risk of skin cancer." One study from June, for example, found that people who used indoor tanning devices six times or more had a 73 percent higher risk of developing basal cell carcinoma, the most common form of skin cancer, by 50 years old.
Nipping this trend in the bud is key here. And while some teens may have gotten the message regarding cancer, this is really a multidimensional issue. First, we must limit accessibility. According to the report, 40 states worked on new laws or strengthened existing ones between 2009 and 2013 to limit accessibility, with 11 outright prohibiting it to teens under 18. But that's not enough. Researchers at the University of Massachusetts Medical School found last month that 48 percent of the top 125 colleges and universities ranked by U.S. News & World Report had indoor tanning beds either on campus or in off-campus housing. Some students were even able to pay with their campus cash cards.
At the same time, we should take steps to prevent teens to feel the need to get a tan in the first place. Teens who get tanned indoors are 20 percent more likely to fast, 40 percent more likely to take laxatives or vomit after eating, and more than twice as likely to take weight-loss supplements, according to an April study. Other studies have found indoor tanners are more likely to have obsessive-compulsive disorder or body dysmorphic disorder — believing your body is defective, and that it needs to be hidden — and that indoor tanning has addictive qualities.
For these reasons, it's important that teens learn to differentiate the society's perception of beauty from their own bodies. Admittedly, this is a lot harder than limiting accessibility, but if doctors and parents can take an active role, then we won't only be reducing their risk of skin cancer but other conditions, too.
Source: Watson M, Garnett E, Holman D, Jones S, Berkowitz Z, Guy G. Trends in Indoor Tanning Among US High School Students, 2009-2013. JAMA Dermatology. 2014.
Published by Medicaldaily.com