Tanning Not Just For Adults Anymore: Children As Young As 9 Also Seeking A Bronzed Glow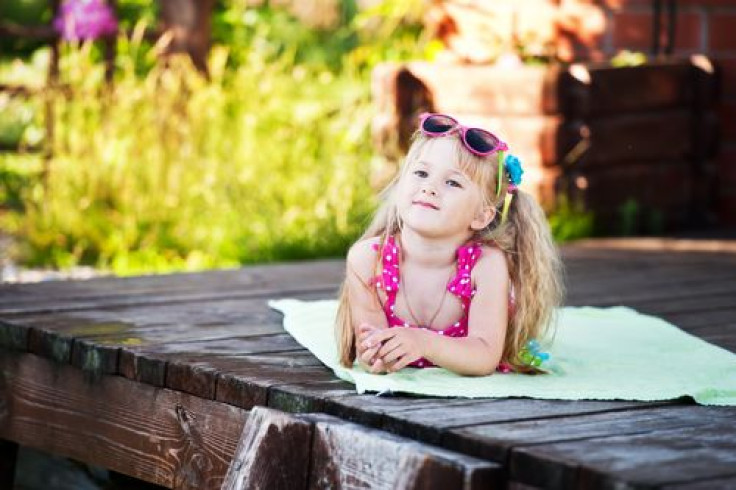 The Hollywood tan is becoming increasingly popular among young children — some, as young as 9. According to a study of 1,000 children, ages 9 to 16, half believed that getting a tan during the summer was important, and many wanted wanted to imitate the bronze of celebrities. Many of them will even lied to their parents in order to get as much exposure to the sun as possible.
The survey was conducted by Simon Comins of Superdrug, a beauty and health retailer in England. He found that one-third of the kids surveyed tanned in their backyards, while 14 percent said that they would also try to tan during recess, the Daily Mail reported.
Some of the ways these kids tanned included rolling up the arms and legs of their school uniforms, using tan accelerators, wearing as few clothes as possible, sitting out when the sun was strongest, and applying baby oil.
"The results of this poll are incredible considering the fact that we all know about the damaging effects of the sun," Comins said, according to the Daily Mail. "At the very least we would have expected youngsters to be aware of using sun creams to protect themselves from harmful UV rays — even if it's just because their parents put it on them at every given opportunity." Most kids said that they wanted to be more tanned to look like their favorite celebrities. "'The worrying thing is that in a bid to look like tanned celebrities, our children are damaging their future health," Comins added.
The poll also found that 64 percent of respondents tanned because they thought they looked healthier with a little color. This worries many public health officials because of the potential health risks associated with prolonged sun exposure. Comins said that his company is working closely with The Karen Clifford Skin Cancer Charity on England's Sun Safe Schools campaign to help children understand how to be safe in the sun.
"Less than half of the children who took part in this research said they had been taught about skin cancer at school, which is why we think it's vital to offer free resources to schools and teachers to ensure they have all the tools they need to educate the children in their care," Comins said. "One single blistering sunburn in childhood or adolescence more than doubles a person's chance of developing melanoma in later life."
Even in the United States, organizations are implementing stricter rules and educational campaigns for young people. The Food and Drug Administration announced in May that stricter rules would be implemented for the use of tanning beds. Eight states are also helping taking part by banning use of indoor tanning beds for teens under the age of 18.
Sunscreen education, especially for minors and young children, is important because it helps them understand the consequences of exposure, and could potentially decrease the chances of kids developing some diseases later on.
Published by Medicaldaily.com