Tattoo Regret: Why The Majority Of Middle-Aged Americans Are Deciding To Blast Away Their Ink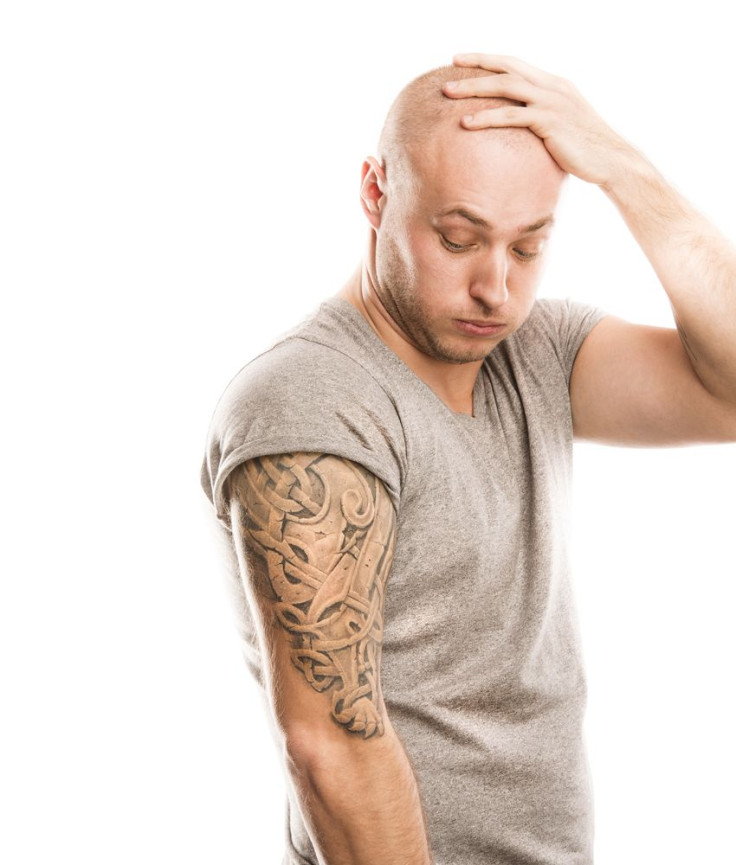 Americans who get a tattoo do so for a number of reasons. Whether it be artistic expression, group identification, cultural/spiritual recognition, or just plain rebelliousness, tattoos have cemented their place in mainstream America, and with television shows like Ink Master, Tattoo Rescue, and Bad Ink, it's clear they are here to stay. On the other hand, more and more Americans seem to be suffering from tattoo regret, and thanks to recent advancements in skin care technology, blasting away their ink is becoming as simple as getting it done.
"A number of reasons can influence a person's decision to seek tattoo removal," director of the Laser & Skin Surgery Center of New York, Dr. Roy G. Geronemus, told Medical Daily. "Young woman become mothers, people experience changes in work status, and sometimes it's just a matter of maturity. We call it 'Tattoo Remorse.'"
Who is getting ink done and why?
A recent Harris Interactive poll asked 2,016 adults in the United States if they currently had a tattoo and, if so, what was their reasoning behind the tattoo. Results of the survey indicated that around one out of every five U.S. adults (21 percent) had at least one tattoo, with the majority (38 percent) lying between the age of 30 and 39. Americans between the ages of 25 and 29 accounted for 30 percent of the tattooed population while those aged 18 to 24 made up for 22 percent. Accounting for 16 percent of the survey, it seems Americans over the age of 50 aren't afraid to show off their ink.
Around 25 percent of the respondents admitted their tattoo makes them feel rebellious and three out of 10 said their ink makes them feel sexy. Twenty-one percent said their tattoo made them feel attractive or strong, while 16 percent said it was a spiritual thing. Only nine percent of survey participants indicated their tattoo made them feel healthy, and eight percent said attractive. Of those surveyed, a staggering 86 percent said they had never regretted their decision to get a tattoo, but that thought may change as they get older.
Who is getting their ink removed?
According to the American Society for Aesthetic Plastic Surgery (ASAPS), tattoo removal is on the rise and people are paying top dollar to clean up their skin. The number of tattoo removal procedures in the U.S. reached 45,224 in 2013 compared to 40,801 procedures in 2011. Women seem to be having the hardest time with their ink, seeing as they accounted for 32,888 (72.7 percent) of procedures. The amount of money paid for tattoo removal treatments also experienced a steep increase, doubling from 2011 to 2013. In 2013, the national average for tattoo removal procedures reached $588.
Judging by the ASAPS's recent figures, the average American's mid-life crisis caused them to rethink their decision to get ink done. Out of all ages, 35 to 50-year-olds accounted for 19,046 of tattoo removals preformed in 2013. Even more surprising, Baby Boomers have started to seek laser removal in record numbers. For the first time in the ASAPS's Cosmetic Surgery National Data Bank's history, Americans over the age of 65 have made a dent in tattoo removal with 424 procedures being attributed to this group. Not surprisingly, Americans under the age of 18 don't seem to have a problem with their ink, given they only contribute to 0.6 percent of all procedures.
"As more people continue to get tattoos, the more people are having tattoos removed," added Dr. Geronemus, who is also a clinical professor of dermatology at NYU Medical Center. "With recent advancements in skin care technology such as PicoSure, tattoo removal has become significantly easier. For example, in the past the colors blue and green have been problematic in removing from the skin. However, today these colors have become the easiest to remove."
What's the best method for tattoo removal?
Considered the first and only picosecond aesthetic laser approved by the Food and Drug Administration (FDA), the PicoSure laser could be the most important tattoo removal advancement in recent history. Before PicoSure, tattoo removal was carried out by way of nanosecond technology, which relied on photothermal action. Heat delivered to the skin's pigment and surrounding tissue can leave visible scars where the tattoo used to be. Instead of inked tribal markings, the person is left with reddened tribal markings similar to a burn. Thanks to PicoSure's PressureWave Technology, targeted ink is shattered within the skin and removed naturally from the body.
To compare PicoSure with traditional laser technology, see the video below:
Published by Medicaldaily.com