Teen With Progeria, Sam Berns, Dies; Parents Continue Search For Answers To Rare, Genetic Disease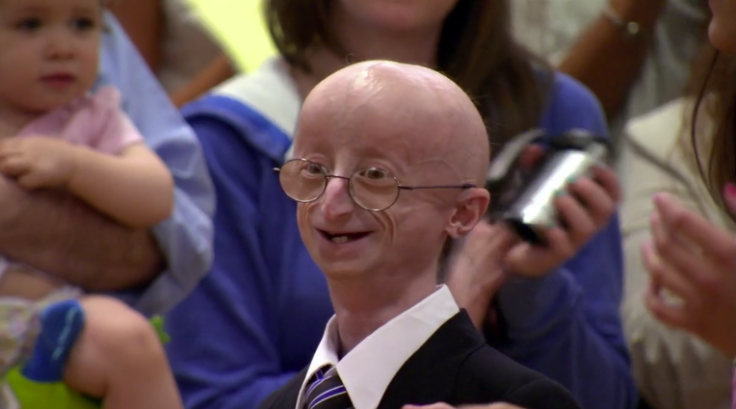 Sam Berns, who became the focus of the HBO Documentary "Life According to Sam," has passed away at the age of 17. According to the Progeria Research Foundation (PRF), Berns passed away on Friday, Jan. 12, due to complications from progeria, the condition he was diagnosed with at 22 months of age.
Progeria, also known as Hutchinson-Gilford progeria syndrome, is caused by a mutation in our LMNA gene which causes accelerated aging. Infants born with progeria tend to display characteristics of the disorder such as loss of body fat and hair, joint stiffness, atherosclerosis, heart disease, stroke, and growth failure between 18 to 24 months after birth.
"The entire PRF community mourns the loss of this remarkable young man who not only inspired PRF's creation, but also touched millions of people worldwide," the Progeria Research Foundation said in a statement.
The teen's parents, Leslie Gordon and Scott Berns, are also physicians specializing in this rare condition. In 1999, they co-founded the Progeria Research Foundation in hopes of finding a cure. After becoming the foundation's medical director, Gordon helped lead the team that discovered the gene mutation that causes progeria. Although Gordon and Berns were not able to save their son from progeria, they continue to search for viable treatment options and hope to rid the world of this often fatal condition.
Approximately one out of every four to eight million infants are diagnosed with progeria, and it is estimated that between 200 and 250 children are currently living with this rare condition. The average lifespan for a child affected by progeria is 13, and most patients die due to atherosclerosis complications such as heart attack or stroke.
The HBO Documentary "Life According to Sam," which highlights the rare, genetic disorder progeria, not only received recognition from critics in the form of Academy Award nominations, but also led a surge in progeria fund-raising efforts. As a student at Foxborough High School and resident of Peabody, Mass., the New England Patriots were a big part of the teen's life. Patriots owner, Robert Kraft, was so inspired by Sam's story that he decided to invite him out to one of the team's practices and contributed a generous donation of $500,000 to PRF.
"I loved Sam Berns and am richer for having known him. He was a special young man whose inspirational story and positive outlook on life touched my heart," Kraft said in a statement. "I am so lucky to have had the opportunity to spend time with him and to get to know his incredible family. Together, they positively impacted the lives of people around the world in their quest to find a cure for Progeria."
Published by Medicaldaily.com