Teenage Parents Force Toddler To Smoke Weed; Jessica And George Kelsey Arrested In Mayville, NY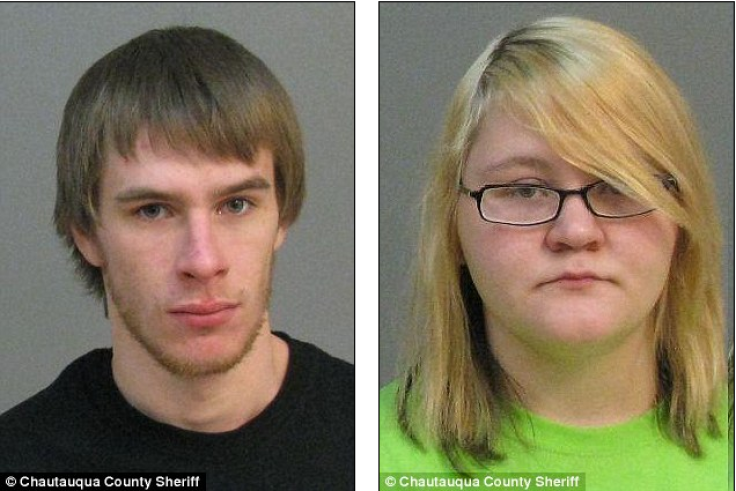 A teenage couple and a 54-year-old grandfather were arrested on Friday for allegedly forcing their 23-month-old child to smoke weed, according to the Buffalo News.
The mother, Jessica Kelsey, 17, and the toddler's father, George Kelsey, 18, have been charged with second-degree reckless endangerment and endangering the welfare of a child. Jessica's father, Don Baker, was also involved in the incident and reportedly did not attempt to stop his daughter from giving the baby weed. It occurred in Chautauqua County, located in Buffalo, N.Y.
According to the Buffalo News, the parents made the toddler smoke weed from a lighted bowl in the family's apartment on Dec. 5.
"They packed the marijuana pipe, lit it for the baby and gave it to him, and encouraged him to inhale," Chautauqua County Undersheriff Charles Holder told WIVB. "It's just unbelievable." The toddler as well as another sibling have been taken to Child Protective Services, where they are currently being held.
"You have a 23-month-old child who's completely helpless, can't really say 'yes' or 'no,' wants to please their parents and grandparent, and this is what you do?" Jode Altman, executive director of Renaissance House, which leads the Kids Escaping Drugs program, told WIVB. "There should be some serious consequences. Unfortunately, when babies are having babies, that's what happens."
Plenty of research has been done that highlights the adverse effects weed has on an adolescent's development, especially the brain. "Evidence from both animal and human studies suggests that the severity of the effects of cannabis use on cognitive development is dependent on the age when cannabis use begins," one 2008 study notes. "From a … biological perspective, however, use of cannabis during critical developmental periods in the still maturing brain may induce persistent alterations in brain structure and brain function. Therefore, the effects of frequent cannabis use during adolescence could be … more serious than during adulthood."
"We know that adolescents who start using marijuana between the ages of 14 and 22 — and stop by 22 — and many more cognitive deficits at age 27 compared to non-using peers," Dr. Paula Riggs, director of the Division of Substance Dependence in the psychiatry department at the University of Colorado School of Medicine, told EdNews Colorado. There are some people who benefit from medical marijuana — people suffering from cancer, multiple sclerosis, glaucoma or side effects of HIV — but for children, "[i]t's not a medication," Dr. Riggs said. "There are 400 other chemicals and many carcinogens in smoked marijuana."
Another parent, 24-year-old Rachelle Braaten was arrested earlier this year for having her child smoke weed as a joke. "I guess it was a joke and stupid mistake that wasn't really funny," she said.
Published by Medicaldaily.com