Man Who Was Supposed To Have 4 Teeth Pulled Due To Abscess Wakes Up With All Of Them Missing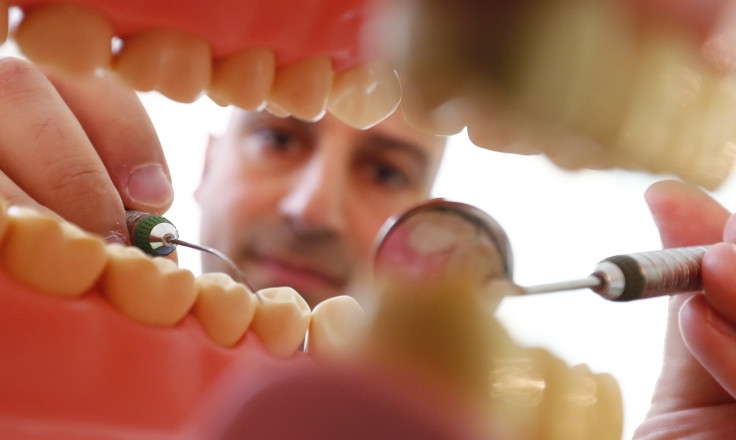 Donny Grigsby says he was told by his dentists from White River Dental in Indiana that they would have to remove four of his teeth after they discovered an abscess. This isn't out of the ordinary. Dentists often have to remove a couple of teeth to access an abscess and remove it. However, something went wrong during the five-hour operation and he woke up with all of his teeth removed instead of just four. Now Grigsby's family is looking for answers to explain how this routine procedure went south.
"What do you mean you elected to pull all of his teeth? She said they were afraid that the infection would spread from the one tooth that was abscessed," Amanda Grigsby, Donny's wife, told WRTV. "There is blood all over him, all over his shirt. And my husband is droopy-eyed and not responsive. He said he had been put into a medically induced coma and he was laying there. And this dentist needs to be stopped."
Amanda said she decided to see what was taking so long after spending five and a half hours in the waiting room. She quickly learned that the dental surgeon decided to remove all of his teeth to prevent the infection from spreading. When she found him blood-soaked and unresponsive, she decided to call an ambulance to take Donny to the hospital. According to Amanda, he was revived twice in the ambulance on their way to Columbus Regional Hospital.
Even though Grigsby remembers very little from the actual operation, he said the reality of having all of his teeth removed set in immediately. Around a month after the procedure took place, he still uses an oxygen tank due to blood clots he developed from surgery. Over this past weekend, Karen Cantou Consulting released a statement on the behalf of White River Dental and Dr. Aaron Strickland:
"Every patient and issue is different and we evaluate each and every part of the oral cavity and the health of the patient before presenting a treatment plan. I assure you that every patient and/or legal guardian has the treatment explained to them thoroughly, and all the proper consent forms are signed prior to any treatment being performed on any patient at White River Dental. I, as well as all of our well-trained staff, strive in every situation to make sure the patient and/or legal guardian understands all issues that may arise prior to accepting the treatment plan, as well as making sure they understand our due diligence in securing positive final results."
Although Strickland said that he would be unable to speak to the media due to HIPPA, the Health Insurance Portability and Accountability Act of 1996, Cantou released a follow-up statement regarding White River Dental's correspondence with Donny and his attorney.
"Thus far, we have contacted the patient seeking an authorization to release information to the press to respond to the patient's allegation. He declined to do so without authorization from his attorney. We then contacted the attorney that he identified that may be handling his case. The attorney then indicated she had not accepted the case, but did agree to review our treatment records to decide whether to take the case. Earlier today, we provided all treatment records to the attorney and after reviewing them, she notified White River Dental's attorney that she will not be representing the patient. Unless the patient signs the authorization, that leaves us no alternative but to seek a court order authorizing us to respond to these defamatory allegations. Our client has authorized the attorneys to prepare the pleadings to get such an order."
Published by Medicaldaily.com