Tennessee Bride, Shona Carter-Brooks, Walks Down Aisle With Newborn Tied To Her Train: Obviously Unsafe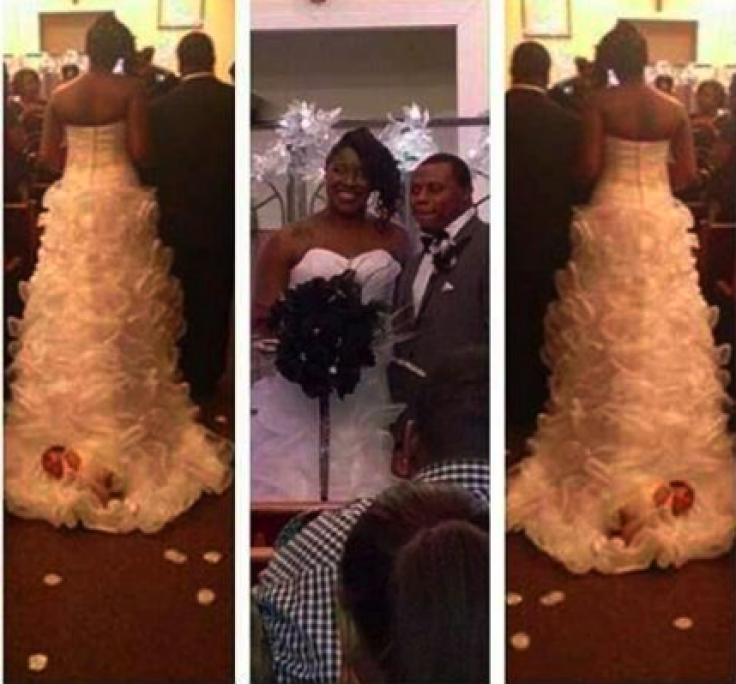 Shona Carter-Brooks' wedding dress appeared to be part of Vera Wang's newest line White by Vera Wang, but it's the accessory the Tennessee newlywed added to her ensemble that turned heads last month. Carter-Brooks has come under a firestorm of criticism after securing her 1-month-old infant to the bottom of her dress while she walked down the aisle during her wedding ceremony.
After posting photos of her controversial decision to strap her newborn to the bottom of her dress, Shona and her husband Jonathan Brooks were met with public outrage. Critics deemed her act "truly stupid" and "incredible dangerous." Carter-Brooks defended her actions via a series of social media posts declaring that "we had our hearts in Christ which covers all!!"
"People questioning what we do, commenting all negative, and just doing the most. We good though we covered by the Blood which never loose its power," Carter-Brooks said in a Facebook post this past Thursday. "So to the media, radio, news, and whomever else wanting to talk about what WE do here you go: Media Media I see how it works regardless the situation or purpose people gone have something negative to say! The answer is we do what we want when we want long as Jesus on our side everything worked out fine and gone continue to be fine. Our 1 month old was awake and well secured on my train."
Although the dangers of dragging a 1-month-old newborn down the aisle of a wedding ceremony should be well understood, it's worth noting what exposing a child that young to a crowd in close quarters can mean for his or her health. Experts agree there is no medical reason to keep parents from taking their newborn out of the house at around one month. However, they should avoid exposing their child to unwanted germs due to a newborn's underdeveloped immune system.
Infants should be kept away from anyone who is sick and people asking to hold a newborn should be advised to wash their hands before even touching a baby. Above all, parents should refrain from subjecting a newborn to areas that may be carrying germs that can be detrimental to the child's health — the floor of a public church being one of them.
Published by Medicaldaily.com