Texas A&M Aggies Surprise Shannon Underwood,Woman Fighting Cancer, With Gifts; Surpass $13K In Donations [VIDEO]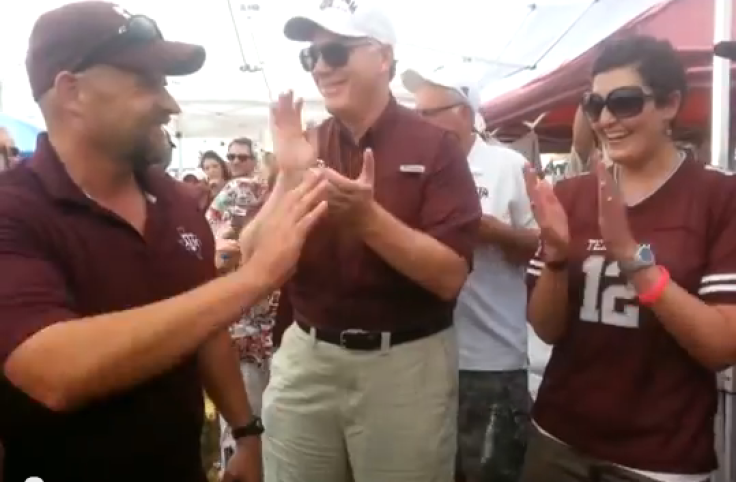 The wish of a north Texas woman, who has been battling cancer for three years, came true last weekend as she saw her favorite college football team, the Texas A&M Aggies, take on Alabama last weekend.
Shannon Underwood, a 2001 Texas A&M graduate and devout Aggies fan, originally thought she would only be attending a tailgate party until Randy Taylor gave the cancer patient the surprise of a lifetime.
Taylor started fundraising to get a pair of Texas A&M tickets for the game against Alabama for Underwood in a message board forum, TexAgs.com. Prior to Taylor, Scott Harris, a high school friend of Underwood's husband Clay, originally posted the message with the username "aikman748" on the Scout Texas A&M message board to receive donations that would allow Underwood to attend the Saturday game.
Harris expressed his desire to have Underwood, a Texas A&M alum with stage-four Hodgkin's lymphoma, and her husband attend a tailgating party before the game against the Alabama Crimson Tide, Sportingnews.com reports.
The Hodgkin's lymphoma cancer patient previously spent so many months sick, unable to be around people or leave the house, a challenge that became physically and mentally tough for Underwood.
"It was important to seize the moments when I'm feeling good and live life to the fullest, even if it was just driving down and sitting in a bar or restaurant or parking lot. I didn't care. It was about being there, and experiencing the magic that is Aggie Land on game day," Underwood told Sportingnews.com.
The generosity of the Aggies started out with a parking pass and ended in a day of gifts from Aggies fans. Taylor took Harris's original message posted on the Scout Texas A&M message board and spread the word on the TexasAgs.com forum stating:

"I remember saying to him, 'What kind of friend do you have at the tailgate that hooked you up with this spot right next to the stadium?'" said Underwood. "I thought that was weird, but that was it."
Initially, Taylor sought to get Underwood seats in the second deck — tickets cost approximately $1,200. Within 40 minutes, Taylor and Ags were able to raise $1,205 for the Underwoods. "OK we've reached the goal you can stop and any additional money will just be given in cash," Taylor wrote. The outpour of donations continued despite Taylor telling donators they can "stop" because the initial goal was met.
"Next thing you know we're at $3,000 and I'm starting to freak out that people didn't recognize the word stop. They took 'stop' for 'send more money' because they just kept growing and growing and growing. My phone and email were going crazy," Taylor said.
There is over $13,000 in donations on the PayPal account posted by Taylor, but donations are still being accepted at EverRibbion.com.
The seats in the second deck were traded for tickets in the prestigious Zone Club with another Aggie, Jason Rosen, a Dallas attorney who wanted the Underwoods to watch the game in the plush Zone Club. The donations for the north Texas woman came from people whom she has never met, but the donors felt a sense of solidarity with the cancer-stricken patient.
"To my knowledge no one donating knows this person, but they are an Ag so everyone knows this person," Taylor told Sportingnews.com.
Aggies fans surprised Underwood at the tailgate party by welcoming her to take center stage. Underwood's husband, a Texas A&M 1997 alum, knew Harris had something up his sleeve when he invited his wife on stage.
"…I never in my wildest imagination dreamed it was going to be this," said Clay.
Taylor and Harris surprised the couple by letting them know that they would be attending the game with tickets in the Zone Club and with accompanying field passes. They were given a check for $6,200, with more money expected to be given to the Underwoods to help pay for cancer treatment, as well as a $250 shopping spree at Aggie Land Outfitters and free dinner at Shipwreck Grill.
Although the Aggies lost that day, Underwood says the whole event has inspired her to continue her battle with cancer. "It didn't matter to me that they lost; it was how they played the game the fact that they never gave up," she said.
"I can't give up."
Published by Medicaldaily.com