Texas Minority Student Attacked With 'Bleach-Bomb': Austin Police Launch Investigation Into Possible Hate Crime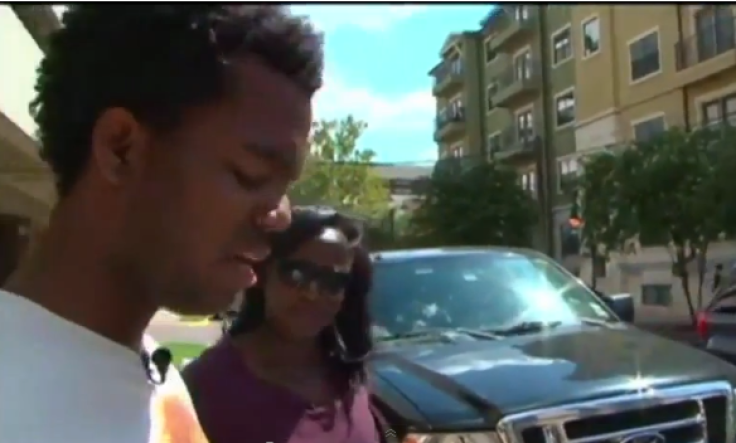 On Thursday, a University of Texas junior was reportedly attacked with a bleach-filled balloon near Austin's West Campus.
FOX 7 reports that 21-year-old Bryan Davis was hit by a so-called "bleach-bomb" thrown from a balcony at the University Towers apartment complex. Davis, who's African American, believes he was targeted for his skin color. Speaking to reporters, he called the incident humiliating and embarrassing.
"I kind of just hear something exploding near me and I feel a light sting on my leg," he said, speaking to FOX 7. "I just remember looking up and thinking I saw the back of someone's head. By the time I looked up they were basically gone.
"People might look at it as a prank, but to be a minority at such a large school, even pranks like this, it doesn't come off the way you think it might when you're doing it," he added.
Speaking to KEYE-TV, Austin Police Corporal David condemned the attack, and insisted that it would not be treated as a prank.
"Bleach gets in your eyes it could potentially blind you which is going to make a serious injury," he said. "Prejudice still exists and we need to find a solution. It's the 21st Century. We shouldn't still be dealing with this."
According to The Huffington Post, similar incidents made headlines last fall, when several bleach-filled balloons were thrown at minority students in the same neighborhood. While some students claim the attacks were not racially motivated, witnesses said that the bleach-bombs were accompanied by offensive slurs and epithets. The attacks eventually prompted a march through campus.
For Davis, the incident changed his perception of the university as well as its community.
"I feel like a fool having had so much pride in front of others about the school I go to," he said. "Now I can't help but to feel embarrassed for both myself and the school for the reputation it's starting to get as being hostile towards blacks, Asians and other minorities."
Published by Medicaldaily.com