These Healthy Snacks Provide Enough Energy To Get Through The Day, But Without Unnecessary Calories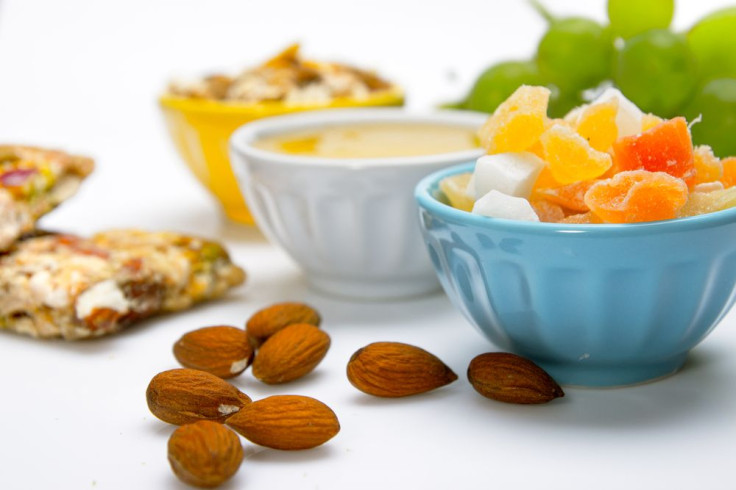 Here are four energy-boosting snacks packed with fiber and protein to keep you going throughout the workday.
We've all been there before — that midday slump when all of our hard work for the past couple of hours really starts to weigh us down. We debate over our fourth cup of coffee or maybe go straight for the sugar-laden energy drink, even though we know that's probably not the best decision for our health. Instead of struggling with that sudden urge to use your desk as a pillow, reach for a low-calorie, energy-boosting snack that will give you the strength to power through the day. Whether you're looking for that extra rush of energy before the gym, working with your hands all day, or trying to avoid turning your cubicle into a bedroom, here are four healthy snacks that will help you sustain energy throughout the day:
1. Greek yogurt with granola
By now, we have all heard how nutritious protein-packed Greek yogurt is, but on its own it can leave a bitter and almost sour taste in your mouth. To make plain white Greek yogurt more palatable, add some granola for flavoring. Not only will it bring a little taste to your probiotic snack, but the fiber found in granola's oats can help you feel fuller for longer. Combine that with the 18 grams of protein found in a 6-oz. cup of Greek yogurt and your midday snack containing around 200 calories should hold you over until dinnertime. No need to worry about Greek yogurt's sugar content. All of the sugar found in Greek yogurt naturally occurs from milk.
Fage Total 0% (6 oz.)
Calories – 100
Fat – 0 grams
Carbohydrates – 7 grams
Protein – 18 grams
KIND Fruit & Nut Clusters (25 grams)
Calories – 100
Fat – 2.25 grams
Carbohydrates – 15.5 grams
Protein – 5 grams
2. Fruit with peanut butter
Fruit by itself may not seem too enticing, but add 2 tablespoons of natural peanut butter and this nutrient-filled snack can be just as delicious as it is healthy. A lot of people think about peanut butter and stress over the word BUTTER. A healthy serving of peanut butter can actually provide you with a good amount of fiber, potassium, and protein, which is why many health professionals regard it as a heart-healthy snack. The best part about this option is that you can mix and match which fruit you would like to add. From apple slices to bananas to strawberries, this midday snack can satisfy any palate. Just make sure you're not going overboard with the peanut butter. Measure out 2 tablespoons of Skippy Natural peanut butter for the perfect balance of calories, fat, protein, and other nutrients.
Skippy Natural Creamy (2 Thsp)
Calories – 140
Fat – 16 grams
Carbohydrates- 6 grams
Protein – 7 grams
3. Almonds
Considered among the healthiest of tree nuts, a serving of heart-healthy almonds can help defend against cardiovascular disease, weight gain, and, of course, a lack of energy. Almonds have even received the American Heart Association's signature Heart-Check mark. Packed with calcium, fiber, protein, and vitamin E, almonds will keep you full and moving throughout the day. Some people may shudder at the thought of 160 calories found in 28 almonds, but a recent study conducted by the U.S. Department of Agriculture revealed that only 80 percent of almonds' calories are actually absorbed during digestion.
Blue Diamond Almonds Whole Natural (28 nuts)
Calories – 160
Fat – 14 grams
Carbohydrates – 6 grams
Protein – 6 grams
4. Vegetables with Hummus
If vegetables slathered in ranch dressing is your idea of a healthy snack it's time to rethink your options. You got the vegetables part right, but turn around a bottle of ranch salad dressing and you'll find it's packed with calories, saturated fat, and sodium. Try switching out ranch dressing for hummus to healthy up your midday snack. Combining chickpeas, olive oil, salt, pepper, garlic, and tahini paste, you can't go wrong with baby carrots, celery, and sliced peppers alongside 2 tablespoons of fresh hummus. High in both fiber and protein, hummus can help with satisfying your appetite and sustaining energy when your work comes bearing down on you.
Sabra Classic Hummus (2 Thsp)
Calories – 70
Fat – 5 grams
Carbohydrates – 4 grams
Proteins – 2 grams
Published by Medicaldaily.com