Thirteen Thousand Health Care Workers To Strike Tuesday At University Of California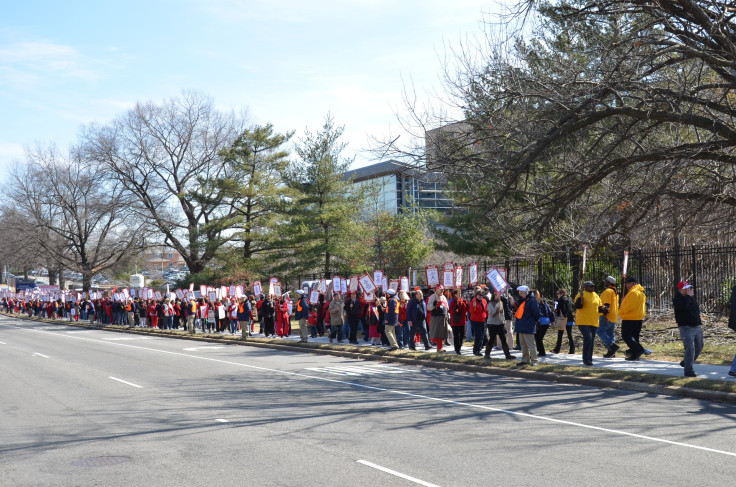 The University of California is postponing elective surgeries and anticipating crowded emergency rooms as 13,000 health care workers prepare to strike.
Vocational nurses, respiratory therapists, and radiology technologists plan to strike for two days to protest failures in labor negotiations with management over "chronic understaffing and reckless cost-cutting," Todd Stenhouse, spokesman for the American Federation of State, County and Municipal Employees, told media.
At the university's five medical centers, some pharmacists, social workers, psychologists, occupational therapists, and lab scientists may also join the strike for one-day. "Leaders of both unions claim their chief concern is patient care but it's very simple: If they strike, services to patients suffer," said Dwaine Duckett, the university's vice president for human resources.
Already, the strike has forced the university to postpone hundreds of surgeries, including five pediatric heart surgeries and a number of pediatric chemotherapy sessions, Duckett said. However, Stenhouse said the striking employees would be prepared to return to work immediately in the event of a mass emergency.
Since September, the employees have been working without a contract. "We're not trying to hurt UC," Stenhouse told media. "We're trying to save it. Our top concern is about safe staffing, and we need to put a stop to the diversion of resources away from patient care."
The workers are striking because of the "union's ongoing resistance to UC's pension reforms," Duckett said, which include raises in employee contributions and revisions in eligibility for retiree health benefits that include the creation of a second tier of pension benefits for new workers. He said the workers' union had rejected a university offer for a four-year contract with up to 3.5 percent annual pay increases for workers who average $55,000 per year in salary.
Sacramento Superior Court Judge David I. Brown on Monday issued a ruling that barred approximately 100 respiratory therapists and poison-control pharmacists from the strike as essential workers, but declined to stop others from striking.
The workers' union has also asked the university's medical centers, in San Francisco, Davis, Los Angeles, San Diego, and Irvine, to form committees to determine appropriate staffing levels, Stenhouse said.
Published by Medicaldaily.com