Thomas Cantley, Testicular Cancer Survivor, Is Going Balls Out To Raise Awareness Across America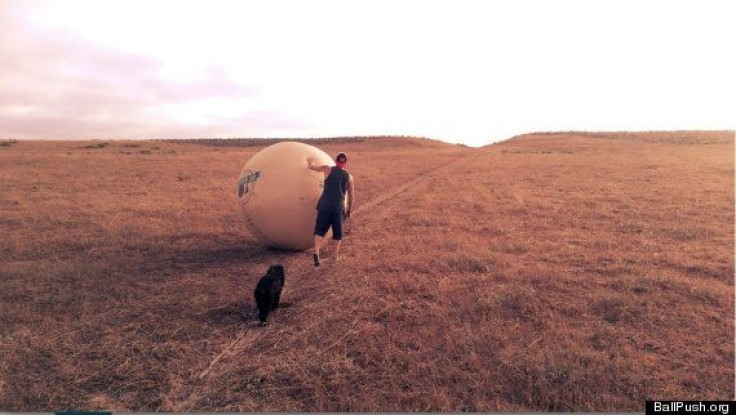 Thomas Cantley was diagnosed with testicular cancer in 2009. Prior to his diagnosis, he was a 27-year-old on his grind in New York City, more interested in his budding filmmaker career than the growing pain in his groin and abdomen. At least that was the case before his "left testicle swelled to the size of an orange," Cantley told Men's Health, and he made it to the doctor to find out he had stage 3 testicular cancer.
In the process of getting his testicle surgically removed, Cantley found out there was no "blunt, honest talk about what to expect," in terms of fertility or sex drive. Even before that, Cantley hadn't been educated on the early signs of testicular cancer; he decided to be that voice. "Cancer was my rebirth," Cantley said. "I need to be infectious. … I need to create attention."
Cantley started by rolling a 6-foot-wide, giant rubber ball from Toronto to Vancouver to raise awareness — an homage to the testicle he lost. He rolled during the day, towed the ball on the back of a rented car at night, and talked to anyone he passed along the way. Known as Mr. Ballsy himself, Cantley didn't only make that 2,000-plus-mile trek, but he started a second "ball push" this past September. Only this time he'll get the awareness ball rolling from New York to Los Angeles.
Cantley "quit his job, sold his house, and left everything but his dog Vader to push a giant ball across America for men's health," as written on his website. His journey is fueled by the food, shelter, and gas offered to him by the generous people he passes along the way, as well as his straight up determination to get young men to check their balls. Testicular cancer is the number one cancer that affects men ages 15 to 35, and when caught early, it's totally treatable.
Watch the video below for more information on Cantley's #BeBallsy campaign. We wonder if Hugh Jackman is as nuts over the idea as we are.
Published by Medicaldaily.com