For Those With Back-Related Leg Pain, Chiropractic Care Might Be An Effective Avenue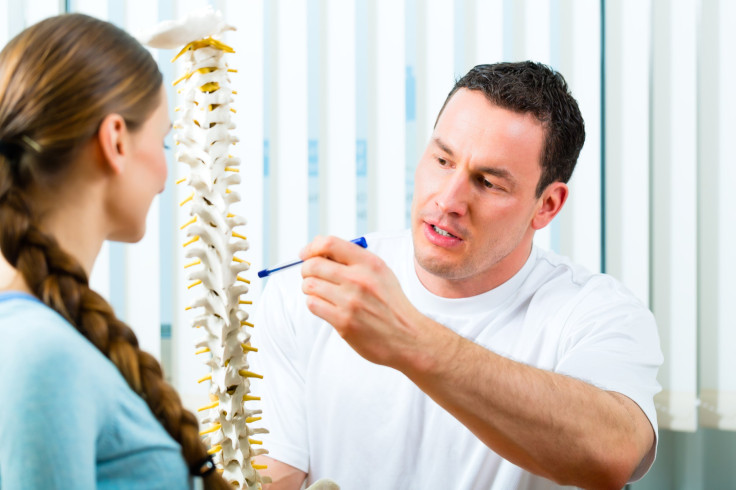 Despite the fact that there is very little evidence supporting the efficacy of chiropractic care, a new study out of the Integrative Health and Wellbeing Research Program at the University of Minnesota finds that spinal manipulation might indeed help people who have back-related leg pain.
Chronic pain is often difficult to diagnose and even harder to treat. Instead of turning to painkillers, which can be dangerous, expensive, and addictive — many individuals look into options that have a more holistic approach, like meditation and chiropractic.
In the new study, people who received chiropractic care along with exercise and advice saw more relief and improvements in their leg pain than those who merely received exercise and advice alone, Gert Bronfort, the lead researcher, found. "Spinal manipulation combined with home exercises may be worth trying for those with back-related leg pain that has lasted more than four weeks," Bronfort told Reuters Health. "This combination resulted in advantages in pain reduction, disability, global improvement, satisfaction, medication use and general physical health status after 12 weeks." Nine months after the treatment, patients who underwent chiropractic care were faring better than those who didn't.
Chiropractic is a type of alternative medicine that places an emphasis on the treatment of musculoskeletal disorders, focusing on the spine in particular. The technique involves manual therapy like manipulation of the spine, joints, soft tissues, as well as physical exercises and lifestyle changes. Many people seek out chiropractors to help them deal with back or neck pain; it's an approach similar to massage therapy, osteopathy, and physical therapy.
But the verdict is still out on whether or not chiropractic care is effective. According to the NYU Langone Medical Center, not enough compelling evidence exists to show that chiropractic actually impacts the musculoskeletal system in a positive way; it shows "promise for these conditions, but the evidence remains incomplete and somewhat contradictory." But this is also because simply not enough research has been done.
Low back pain is a common affliction; up to four out of five people will end up developing lower back pain, with 40 percent of those also experiencing leg pain related to it. So while evidence remains scant, Bronfort believes that chiropractic might be worth a try for those who are looking for some relief.
Source: Bronfort G, Hondras M, Schulz C, Evans R, Long C, Grimm R. "Spinal Manipulation and Home Exercise With Advice for Subacute and Chronic Back-Related Leg Pain: A Trial With Adaptive Allocation." Annals of Internal Medicine, 2014.
Published by Medicaldaily.com