Thought-Controlled 'Bionic Leg' Connects To Patient's Original Nerves; New RIC Prosthetic Technology Mimics User's Natural Movements [VIDEO]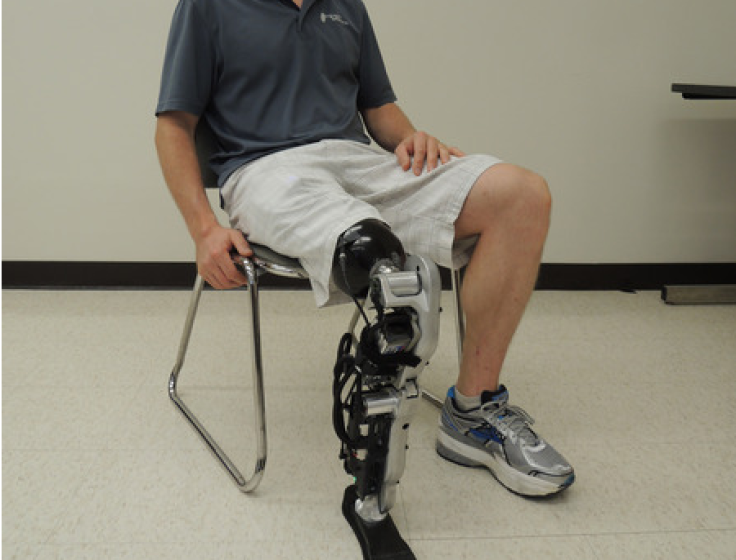 A new type of prosthetic technology establishes a connection between a robotic leg and a patient's original nerves. By sensing unconscious muscle activity, the bionic leg can mimic natural movements of the knee and ankle. According to the developers, the innovation allows users to achieve an unprecedented degree of control.
"This technology offers a seamless transition to walking around, climbing stairs, and descending stairs and moving around on slopes and even repositioning the prosthesis without thinking about it," Levi Hargrove of the Rehabilitation Institute of Chicago (RIC) told Reuters Health. "That's something no other device offers now."
In an accompanying case study, the researchers examined Zac Vawter – a lower-limb amputee who lost his leg in a motorcycle accident. Four years ago, Vawter underwent targeted muscle reinnervation surgery to redirect nerves from damaged tissue to healthy muscles above his knee. By interpreting contractions in this cluster of healthy nerves, the bionic leg is able to respond to the movements Vawter is trying to perform. The result is a safer, easier, and more intuitive patient-prosthesis dynamic.
"The bionic leg is a big improvement compared to my regular prosthetic leg," Vawter said in a press release. "The bionic leg responds quickly and more appropriately, allowing me to interact with my environment in a way that is similar to how I moved before my amputation. For the first time since my injury, the bionic leg allows me to seamlessly walk up and down stairs and even reposition the prosthetic by thinking about the movement I want to perform.
"This is a huge milestone for me and for all leg amputees," he added.
The research effort was funded by an $8 million grant from the US Army's Telemedicine and Advanced Technology Research Center (TATRC). Today, more than 1,200 lower-limb amputees in the U.S. are recently injured service members. The goal is to make bionic legs available for testing for military personnel and civilians within five years.
"We are pleased to partner with the RIC Center for Bionic Medicine in the development of user intent controlled bionic limbs," Col. John Scherer of the U.S. Army Medical Research and Materiel Command told reporters. "We appreciate the opportunity to sponsor this life-changing effort to provide military amputees with as much physical functionality as possible, as soon as possible."
Published by Medicaldaily.com