Tim Hudson Suffers Ankle Injury After Mets' Eric Young Steps On Right Ankle, Slated For Surgery [GRAPHIC VIDEO]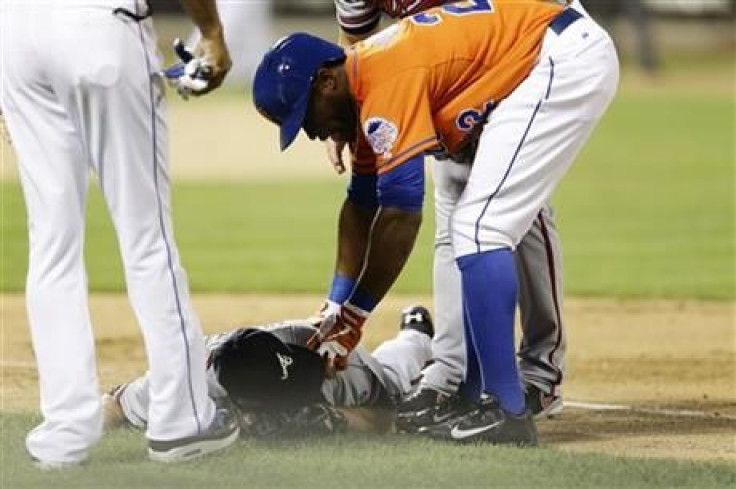 A somber tone loomed over Citi Field Wednesday night as Atlanta Braves pitcher Tim Hudson laid riving in pain on the field after an unfortunate collision at first base. After subsequent X-rays at the field, it was decided that Hudson's injury to his ankle would require surgery.
Hudson was on his way to a four-hit shutout going into the eighth inning when a hit down the first baseline caused first baseman Freddie Freeman to come out and field the play. As Hudson ran to cover first base, Eric Young Jr. unintentionally stepped on the back of his lower leg, causing an awkward turn, the Associated Press reported.
Young, who was in tears as he ran over to check on the ailing Hudson, immediately apologized, according to CBS Sports.
"I'm hustling down the line like I always do, going for the base," Young said. "I saw his foot, as I'm going for the base, right there in the middle, as I came down, I knew I didn't get any of the base. I know I got all of his foot. I pretty much knew it was probably broke right as I did it, and that's why I sprinted right back to him and tried to console him as much as I could and apologize," he told ESPN.
"I was able to see Tim before they took him to the hospital. He told me it wasn't my fault, just one of those freak plays that happened."
Around 10 minutes after EMS responders assessed the damage to Hudson's leg, he was carted off on a backboard to the applaud of the entire Citi Field crowd. The 38-year-old MLB veteran will undergo ankle surgery as soon as the swelling subsides. but doctors and team personnel are unsure of when he will be able to return to the field.
Published by Medicaldaily.com