That Time Usain Bolt Ate 1,000 Chicken McNuggets: How He Did It And Why You Shouldn't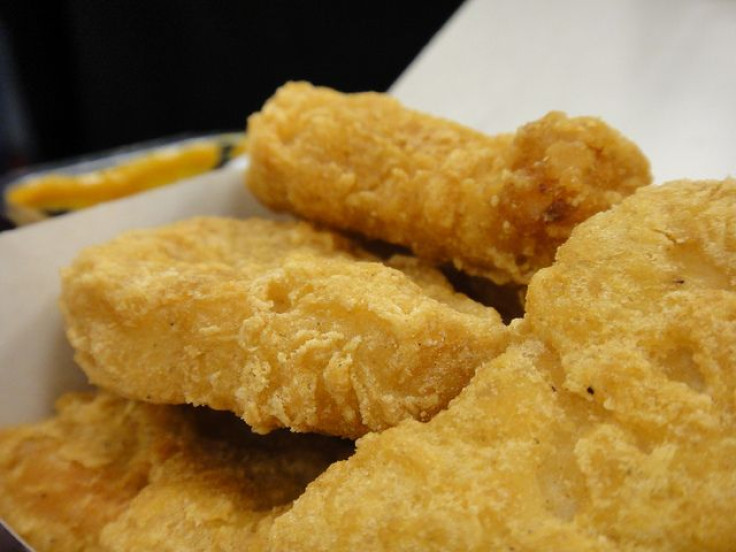 It is a truth universally acknowledged that Olympic gold medalist Usain Bolt's career has so far been delineated by extremes. Earlier this year, researchers at the National Autonomous University of Mexico published a formal breakdown of the absolutely ridiculous physics behind his breathtaking 9.58-second world record sprint –– a feat some hold to be one of the greatest athletic performances ever recorded. Now, the Jamaican runner is poised to break another set of records with the publication of his new autobiography, in which he reminisces about women, bolting, and the time he ate 1,000 Chicken McNuggets in 10 days.
The fast food feat reportedly took place during the 2008 Bejing Olympics, where the then 22-year-old athlete would eventually shatter the competition by breaking his own world record. When Bolt discovered that he was weirded out by Chinese food, he decided to keep it simple and base his Olympic diet on America's favorite food: the Chicken McNugget. As with most things in Bolt's life, the situation soon took a turn for the extreme.
"At first I ate a box of 20 for lunch, then another for dinner. The next day I had two boxes for breakfast, one for lunch and then another couple in the evening. I even grabbed some fries and an apple pie to go with it," he writes in his biography, Faster Than Lightning. "Man, I should have gotten a gold medal for all that chowing down."
According to The New York Post, the 200-lbs athlete estimates that over the 10 days he spent in the Chinese capital, he averaged 100 nuggets per day –– 1,000 pieces in total. That means that Bolt scarfed about 59,000 calories, 3,000 grams of protein, and 4,000 grams of fat during the tournament. Each day, he consumed 2220 mg of sodium, or about five times the daily recommended intake.
Why Eating 1,000 Chicken McNuggets Is Not A Good Idea
Bolt's chicken McNugget stunt recalls the Olympic diet of Michael Phelps, whose 12,000-calorie-a-day meal plan made headlines a few years ago. Like Bolt, Phelps has no truck with lettuce-wrapped tofu dogs or steamed greens, and relies primarily on one-pound bowls of pasta and entire pizzas to get him through the day. A typical Phelps breakfast, for example, consists of three fried-egg sandwiches loaded with cheese, lettuce, tomatoes, fried onions and mayonnaise; two cups of coffee; one five-egg omelet; one bowl of grits; three slices of French toast topped with powdered sugar; and three chocolate-chip pancakes for good measure.
Why, then, are so many people freaking out about exceeding their daily calorie intake? If two Olympic athletes can subsist entirely on foods that 99 percent of all diets ban, why can't everyone else do it? Why do we even have diets? According to Mark Klion, a sport medicine physician and orthopedic surgeon at Mount Sinai Medical Center in New York, extreme eating ultimately comes down to basic math. Once you take into account Phelps' equally extreme training regimen, you will find that the vertiginous calorie-count is rapidly offset by the pull-ups, deadlifts, squats, and 1,600 Olympic pool lengths he records every week.
"I think for him, because of his caloric demands, he can probably eat whatever he wants to," Klion said, speaking to The Wall Street Journal. "If you've got to eat that much, it better be enjoyable, or you won't be able to keep up."
Published by Medicaldaily.com