Titus Young Suffers From Brain Disorder Following Concussion, According To Dad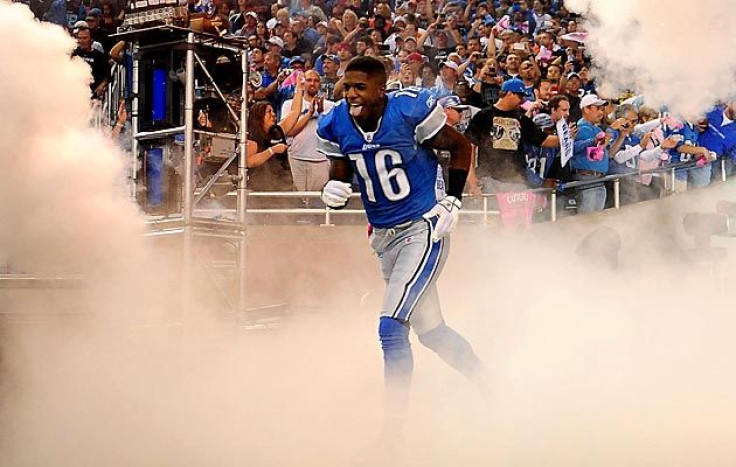 Titus Young, former Detroit Lions wide receiver, desperately needs help for a mental health disorder, according to his father Richard Young.
On Friday, Titus Young was arrested for the third time in a week — most recently for allegedly breaking into a home, ESPN reports. Less than a week prior, Young was arrested in Riverside County on suspicion of driving under the influence, and again later that day for attempting to take his car from a tow yard illegally.
For the most recent incident, Young has been charged with attempted burglary, assaulting a police officer, and resisting arrest. When he allegedly broke into the home, the homeowner was loading a shotgun he keeps under the bed when Young approached the bedroom door.
Young didn't open it.
"I feel sorry for him, and I'm sure glad that he left and I didn't have to find out what's going to happen if he came in, because I'm afraid I would have shot him," Bill Palttos told KTLA-TV.
Young's father told Detroit Free Press that his son has been prescribed the antidepressant Seroquel (quetiapine fumarate), which is used to treat bipolar disorders and schizophrenia.
"I hope they just forgive Titus because this ain't none of Titus, it wasn't none of his fault," Richard Young told Detroit Free Press. "I look at my son right now, I don't see my son. That's not my son. I know my son."
Earlier in the day of the alleged burglary, Titus Young and his father had gone out for coffee and doughnuts together. Titus Young appeared happy and was laughing, Richard said.
"We were really talking, and so I was loving it," Richard told Detroit Free Press. "We get home, and he said, 'Daddy, I left my phone in the car. Can I get my phone?' 'Cause usually I give my wife the key to hold the key, 'cause he's not supposed to be driving. And I gave him the key, he sat in the car for a minute, and he took off and we ain't seen him since."
By midnight, Young was in police custody.
Richard does not think Seroquel is the cause of Titus' recent erratic behavior. Rather, he attributes the behavior to a concussion. Richard told The Detroit News that although he could not remember the name of the disorder, his son suffered a concussion in 2011, his rookie season. Richard said that the condition was caused when the brain is compressed into the front of a person's skull. The frontal lobe is involved in impulse control and decision-making.
The Lions did not list the receiver as suffering a concussion, however.
Last May, Young was sent home from voluntary workouts after punching teammate Louis Delmas. In November, Young intentionally lined up on the wrong place on the field, apparently because he was frustrated that the ball wasn't being thrown his way, Detroit Free Press reports.
Following a suspension, the Lions team pushed for Young to get treatment, although it did not discuss details. Around the same time, Young's father began noticing a change in his son's behavior. When Titus was sent home, it "seemed like that snowball really, really started spiraling around" and "he really was depressed," Richard said.
Richard said the two were talking when Titus laid on a bed and said, "Daddy, I don't know what's going on with me."
"He said, 'I don't feel good.' He just started crying," Richard said. "He said, 'I just don't feel good. I'm not myself, I don't feel good, Dad. I don't know what's happening to me.'"
Titus Young is scheduled for a video arraignment today, but it is unlikely it will take place because he has been on medical hold since his incarceration, Detroit Free Press reports. Richard has asked that the judge make sure his son sticks to a treatment regimen, "because he's not staying with it and he needs that help."
"We want y'all to pray for the Young family," Richard said. "Ain't nothing we can do, man, but pray. We just want Titus to get well, that's all we're doing right now. We ain't thinking about football, we're thinking about our son now because I don't know what's going on with him."
Source: A Bechara, M Van Der Linden. Decision-making and impulse control after frontal lobe injuries. Current Opinion in Neurology. 2005.
Published by Medicaldaily.com