Toddler, Geezer Buxton, 'Could Eat Himself To Death': Rare Syndrome Causes Permanent Hunger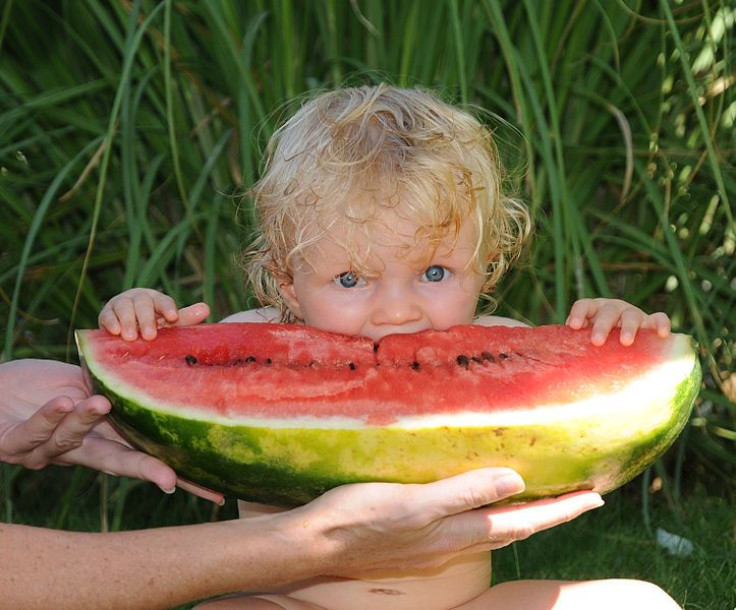 Toddlers typically begin to eat and drink more independently as they learn to eat table food, and accept new tastes and textures with their growing appetites. Twenty-three-month-old Geezer Buxton, of Staffordshire, U.K., suffers from the inability to realize he's had enough food, which leaves him feeling permanently hungry and causes him to eat almost anything and everything.
"When he was born I had to have a C-section, he was taken into intensive care and wouldn't feed properly for ten days," Geezer's mom, Michelle Sargeant, 43, a part-time nurse told The Daily Mail. Geezer was fed through a tube at the hospital, and was diagnosed with Prader-Willi syndrome (PWS) three weeks after he was born.
PWS is a rare genetic disorder that beings at birth. It causes a series of physical, mental, and behavioral problems. According to Mayo Clinic, the key trait in PWS patients is their constant sense of hunger, which begins after the first 12 months of life. Toddlers typically express the desire to eat constantly, and as a result experience trouble controlling their weight. Unusual food-seeking behaviors, such as hoarding food, or eating garbage or frozen food is common among patients. The condition occurs in about one in every 15,000 to 25,000 live births in the U.S. It is known to be the most common nonhereditary genetic disorder, and can lead to life-threatening obesity in both boys and girls.
While Geezer hasn't developed the craving to eat strange things, such as contaminated food or odd food combinations, he suffers from learning disabilities and low muscle tone — common symptoms of PWS. The 23-month old boy also experienced a delay in his gross motor skills — he just recently started to crawl, but has yet to utter his first word.
"If you saw him today, you would think he was a normal toddler, although he can't speak properly or stand due to his low muscle tone," said Michelle.
Essentially, all patients with PWS will have some learning disabilities, and may have speech delays until they are about 2 years old. Articulation of words may become an ongoing problem later in life as well. They may also experience poor growth and physical development due to low muscle mass, which leads some patients to have short hands and feet.
With low muscle mass, patients are sometimes described as "rag dolls." The toddler appeared to be floppy and unresponsive when he was picked up by his parents. Geezer's dad, Craig Buxton, 39, a self-employed barber told The Sentinel: "When he was born, he actually stopped breathing four times. He was also really floppy, he couldn't even hold his neck or arms up."
Now the Buxtons spend most of their time with their recent bundle of joy who will battle PWS for life. The couple has three older children who do not have the rare genetic condition. The Daily Mail reports that Geezer's parents realize that even when their son gets older, they will have to watch over him because he could one day eat so much that his stomach ruptures. "He could eat himself to death," Michelle said.
Geezer's parents collected almost $700 at their first fund-raising event for the PWS Association U.K. at the The John O'Gaunt Inn, in Newcastle, last Friday.
Michelle told The Sentinel "We have never done a charity event before, but we thought it would be significant to do it on November 15, as the syndrome affects chromosome 15 and genes 11 to 13."
"…with the continued research in genetics and PWS, we remain positive about the future and hope that our little boy will be able to lead a happy and healthy life."
Most people with PWS will need specialized care and supervision throughout their lives. Many adults with the disorder are placed in residential facilities that enable them to lead healthier lifestyles.
To learn how to cope with a child who has PWS, click here.
Published by Medicaldaily.com