Tongue Reduction Surgery Lets Toddler Smile For First Time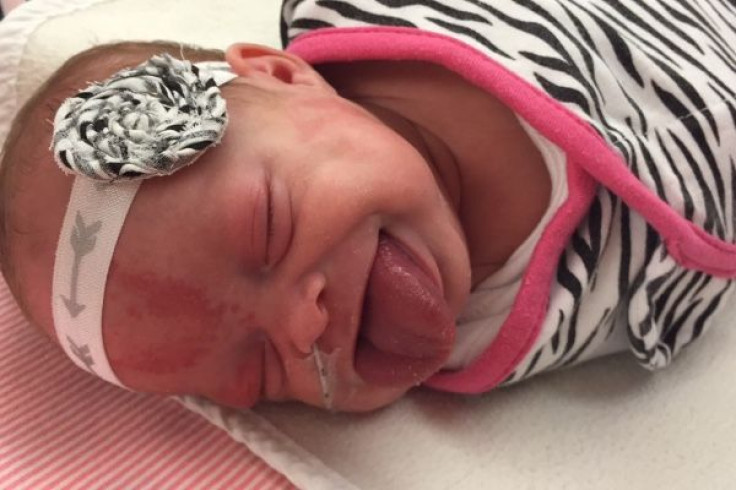 A toddler born in South Dakota with an oversized tongue is smiling for the first time in her life after a surgery removed a chunk of the muscle, allowing her finally to close her mouth.
"I couldn't believe it and was shocked by how beautiful my little girl looked," mother Madison Kienow, 21, told the New York Post.
Before the surgery, the second procedure that baby Paisley Morrison-Johnson has had on her tongue, it was always sticking out of her mouth, the mom said. "She was always chewing on her tongue because it took up so much room in her mouth. … It always looked like she was making silly faces."
Such a large tongue on a tiny baby is a common manifestation of Beckwith-Wiedemann Syndrome, a genetic condition that is an "overgrowth syndrome," and can cause difficulty breathing, nursing, swallowing or talking, the U.S. National Library of Medicine says. Infants and children born with the disorder are larger than normal, although the rapid growth slows by 8 years old. Sometimes during that window the kids — including Paisley — have uneven growth, with body parts on one side getting larger than on the other.
Other common symptoms include being born with large abdominal organs and an opening in the abdominal wall that allows them to protrude through the belly button; low blood sugar; and skin creases near the ears. The condition, which affects about 1 in 13,700 infants around the world, puts kids at an increased risk of developing tumors.
While Paisley was still in utero, CNN reported, her mother noticed she "always stuck her tongue out," but it wasn't until after she was born that doctors realized she had Beckwith-Wiedemann.
"One of the initial striking features was how significant her enlarged tongue was, even compared to previous cases to the children I have seen; she had the largest tongue for her age," Dr. Patrick Munson told CNN.
She had a couple of inches removed from her tongue at 3 months old, but it continued to grow — she needed another surgery. "Her tongue has significantly increased in size and she is the first patient that I have ever had to do a repeat anterior wedge resection on," Munson told CNN. "That operation was done at 13 months of age and she has been able to resume appropriate oral feeding."
Paisley is now 16 months old and, with her second surgery and a large chunk of her tongue behind her, has started talking.
"She couldn't even make the sounds to say words like 'mama' and 'dada' before because of the size of her tongue, so this feels like a massive achievement," Kienow told the New York Post.
Published by Medicaldaily.com