Tony Romo Injury Report: Cowboys QB Suffers 3rd Rib Injury Of NFL Career; Could An X-Ray Cut Season Short?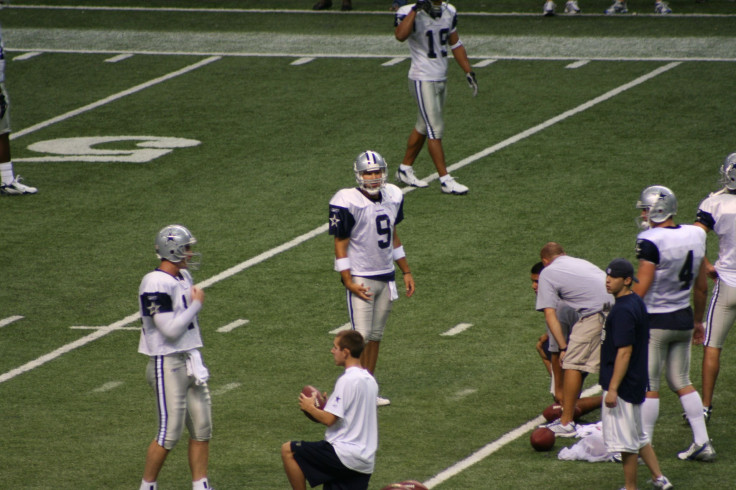 Dallas Cowboys star quarterback (QB), Tony Romo, was found faced-down on home turf with an aching torso after suffering a rib injury in the second quarter during the Cowboys' season opener against the New York Giants. The 33-year-old, who recently signed a $108 million contract extension last March, was knocked out of the first half of the game by NY Giants defensive linemen Mathias Kiwanuka and Justin Trattou, reports SB Nation. After several moments of lying on the ground, Romo slowly made his way to the sideline assisted by the Cowboys training staff.
Kyle Orton, Romo's backup quarterback, came into the game, forcing the team to finish the rest of the first half without him. Cowboys team representatives said the injured player "had the wind knocked out of him," says CBS Sports. Romo appeared to be in a significant amount of physical pain while lying on the field and as he was escorted by Cowboys staffers.
"We certainly didn't think it was serious enough to have any treatment when he came in," said Cowboys owner Jerry Jones to reporters Sunday night.
The QB did some warm-up tosses before the start of the third quarter, allowing him to go back to the game without getting X-rays to check if his ribs were fractured.
"It was not deemed by anyone here, doctors, trainers or him, to be something that would compromise him in the game," said Jones. "I'm sure it's sore, I'm sure it hurt, but still we certainly felt comfortable with him back there."
Romo returned during the second half of the game, with the Cowboys leading the Giants with a score of 13-10 early in the third quarter. The injured player threw the ball 49 times against the Giants, his seventh highest total of his nine-year career. The QB completed 36 of 49 passings for 263 yards and two touchdowns with one interception, CBS Sports reports.
According to the Dallas Morning News, the QB said, "I'm going to be fine," after Sunday night's rib injury. "Mine is nothing really crazy."
The Cowboys head coach Jason Garrett supported the QB's statements and affirmed that he didn't think Romo's performance was "100 percent" during the second half. "But that's the nature of this league. You rarely are 100 percent."
Romo is no stranger to rib injuries. Sunday night's injury marks his third rib injury of his NFL career. In the final game of the season at Philadelphia in 2008, Romo collapsed during the post-game shower allegedly due to a rib injury. The 2008 injury was followed by a fractured rib in 2011 during week two against the San Francisco 49ers. The QB may have broken one of his ribs but during the 49ers game, he led his team to an overtime 27-24 victory win.
Rib injuries are most common in athletes who play contact sports. A bruised injury is most probable when a player is hit or when he falls on his side with the ball or a helmet between his body and the ground, according to Coreperformance.com. On average, it takes approximately a month for patients to recover from bruised ribs.
Sufferers of a fractured rib(s) usually have one of the bones in their rib cage break or crack. In football, when a player receives trauma to the chest due to a strong, high-speed impact, his chances for rib injury are significantly high. Unlike a bruised rib, the recovery time for a fractured rib can take anywhere from one to two months, says Mayo Clinic. In most cases, fractured ribs heal on their own.
Romo's X-rays will be tell whether or not the player will need one month or two months of rest, which could greatly impact the Cowboys 2013 regular season.
Published by Medicaldaily.com