Top-Ranked Pro Golfer Stacy Lewis Shares Her Battle With Scoliosis, Calls It A "Blessing In Disguise"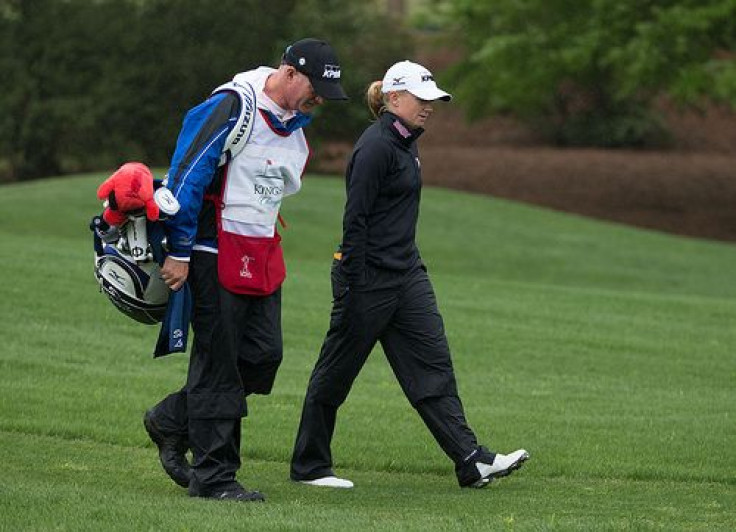 Stacy Lewis spent 18 hours everyday wearing a back brace at a young age. Doing this for seven years starting at age 11, Lewis said, only one thing offered an escape.
"Golf became my escape," Lewis wrote recently as part of CNN's series on overcoming adversity, The Human Factor.
Scoliosis is a side-to-side curving of the spine that can be idiopathic (cause unknown), congenital, or secondary to another primary condition. Despite being able to remove the brace when playing golf, Lewis's orthopedic surgeon, Dr. Gary Brock, told her she still needed surgery to correct the curve.
Doctors removed one of Lewis's ribs and pushed aside her major organs to insert a metal rod and five screws into her spine. She also had a chest tube inserted. In total, the surgery lasted five intense hours, but that time paled in comparison to the extended rehabilitation Lewis spent regaining her range of motion, as she was unable to bend or twist for six months, she said.
"After surgery, Brock did not want me to lift anything heavy for several months, so when he cleared me to start easing back into golf, I practiced a lot of putting and chipping."
The rehab came right as Lewis entered college at the University of Arkansas. Rather than cast a shadow on the scholarship she had received, Lewis said the opportunity to watch her teammates compete motivated her to work even harder.
"I began to really understand the mental aspect of the game and why course management was so important," she said. "Having scoliosis forced me to develop a strong sense of mental and physical toughness, which has benefited me to this day."
In 2007, she won the NCAA Division I national championship, an achievement that popularized her in magazines and newspapers across the country. Kids began reaching out to her, asking for advice, and corresponding with Lewis about managing their own scoliosis. Once she turned into a professional, her ability to inspire only accelerated.
She soon joined the Scoliosis Research Society "to create a public service announcement, and it started from there," she wrote. "This year, I am working with the American Academy of Orthopedic Surgeons to share my story and I hope inspire as many people who have scoliosis - or any orthopedic condition - to not give up because anything is possible with some determination."
To make sure her back stays strong and healthy, Lewis focuses heavily on strengthening her core and maintaining proper flexibility. These priorities, along with paying attention to what she eats, all fit into the rigorous schedule of Tour members. Striking a workable balance is vital, she said.
"When I was told I had to have surgery to implant a metal rod and five screws into my back, I did not envision that I could be a professional athlete, let alone become one of the best," Lewis wrote. "In that way, my years in a back brace and surgery were a blessing in disguise. I learned that if I put in the effort and the time, I could reach my goals and even surpass them."
Published by Medicaldaily.com