Turkey Quake Live Body Finds Fading, Turkish-Americans Come Together to Help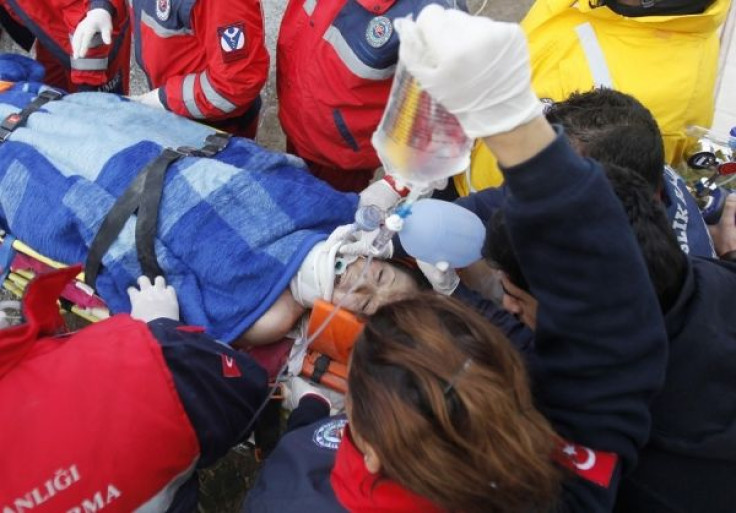 Nearly three days after a devastating 7.2 magnitude earthquake in Turkey that has killed at least 461 people and left 1,352 injured, rescuers pulled a university student and two teachers from collapsed buildings.
As reported by CNN, emergency crews pulled a 27-year-old English teacher from debris 67 hours after the quake hit, citing Andolu reports.
Suffering brief breathing problems, teacher, Gozde Bahar is undergoing treatment at a local hospital as the state-run Anatolia news agency said her heart stopped but doctors managed to save her.
NTV television said 25-year-old teacher Seniye Erdem was pulled out around the same time rescue workers freed the other teacher. The women had asked for her husband, who had died.
Earlier in the day, rescuers saved Eyup Erdem, 18-year-old university study by using tiny cameras on sticks to locate him.
Rescue workers continue their search to find others but according to the AP, searchers said hopes of finding anyone else alive were rapidly fading.
"At the moment, we don't have any other signs of life," rescuer Riza Birkan told the Associated Press. "We are concentrating on recovering bodies."
Turkey's prime minister, Recep Tayyip Erdogan, said 63 teachers were among the dead and he alleged that shoddy construction contributed to the high casualty toll, AP reported. He compared the alleged negligence of some officials and builders to murder because they ignored safety standards.
"Despite all previous disasters, we see that the appeals were not heeded," Erdogan said.
With thousands of people left homeless, close to 20,000 tents have been sent to the quake zone. Turkey said it would accept international aid offers, even from Israel, although they have tense relations. Israel offered assistance despite a rift between the two countries.
U.S. Turkish Community Gathers Aid Funds
With a large percentage of Turkish immigrants and Turkish descendants living in America, organizations such as the Turkish Cultural Center are getting together with the Helping Hands Relief Foundation and advising their members and others to make donations.
"We are directing our members and others to the Helping Hands Relief Foundation to make donations to help those suffering in Turkey," said Suleyman Aydogan, Executive Director of the Turkish Cultural Center.
Aydogan said that people in New York are trying to reach out to their family members, relatives, and friends but the telephone system in the region is damaged and other circuits are jammed due to heavy phone traffic.
The Turkish Cultural Center, with 9 centers in New York City, 12 centers in New York State, and 24 centers in the East Coast region has started a fundraising campaign for the families of the victims to rebuild their houses and provide them with tents, blankets, food, water, and other needed supplies.
"Some of our members have lost their homes," he said.
"We are feeling very sad about this tragic event and we send our deepest condolences to the families of the victims who lost their loved ones, relatives, and friends," he added.
To send donations to the Helping Hands Relief Foundation you can visit www.hhrelief.org.
"Our thoughts and prayers are with everyone who has been affected by this devastating earthquake," he said.
Published by Medicaldaily.com