Twinkies Are Back, But What's Changed About America's Favorite Snack Cakes?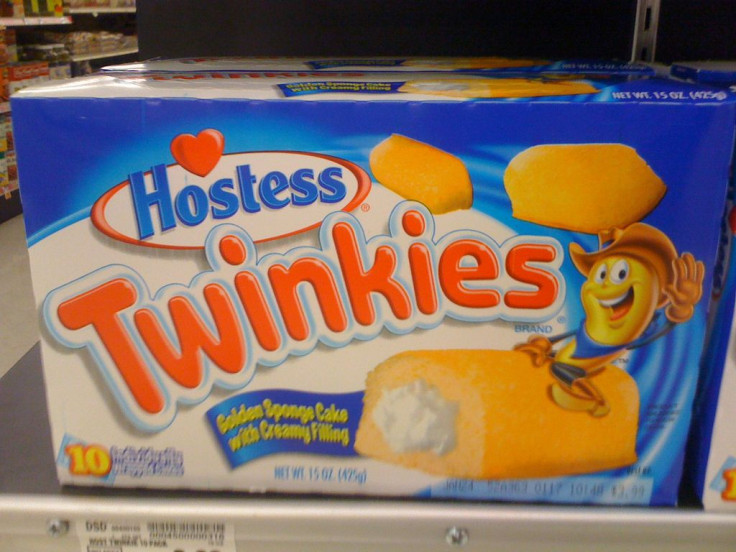 After eight long months without the cream-filled snacks, Americans welcome the news of Twinkies' return. The snack cakes are finally returning to shelves today, starting at Wal-mart. The rest of the Hostess family will return as well, including CupCakes and Ding Dongs, despite the brand's financial collapse in late 2012.
The new owners of Hostess are Apollo Global Management and Metropoulos & Company, which owns Pabst Blue Ribbon beers and Vlasic pickles. The firms bought the brands for $410 million, the Chicago Tribune reports, after Hostess abruptly shut down in November 2012 and declared bankruptcy in March 2013.
However, despite the downfall of Hostess, the new owners are thrilled to get the iconic golden cakes back on shelves, even making them over with a new recipe.
Now, Twinkies are nearly 10 percent smaller than before, with fewer calories — roughly 135. The new recipe also lends the cakes a shelf life of 45 days — nearly three weeks longer than their previous shelf life. The company plans to update its snack cake line to include products that are more appealing to younger consumers, with options like Twinkies lighter calories or gluten-free. According to the Chicago Tribune, Hostess executives are even considering other flavors for the treats, such as peanut butter, as well as offering bite-sized portions.
Financially, the new owners seem to be making cautious, albeit smart, decisions. They only reopened four of the original eleven Hostess bakeries and are reported to have hired only 1,800 workers so far.
Wal-mart began stocking the Twinkies once more as early as Friday — three days ahead of everyone else. However, if there is not a Wal-mart near you, you need not fret, as a new sales strategy for Twinkies allows them "to be sold wherever candy bars are sold," said Hostess President Rich Seban.
The cakes will be stocked everywhere by Monday at the latest. Twinkies marketers are entertaining ideas of selling the snacks at sports stadiums, with continental breakfasts at hotels, at movie theaters, and on cruise ships as well.
This comeback is perhaps the most illustrious of its kind. Hostess celebrates by launching a grand social media campaign, including the website Prepare Your Cake Face and the Twitter reference #cakeface, to ensure that Twinkies become the most talked about subject on the day of their comeback. Street teams are handing out T-shirts and "I Saved the Twinkie" buttons. A food truck is also visiting county fairs, music festivals, and other locations. Vine videos, billboards, and advertisements on building walls have also been commissioned to spread the great news.
Published by Medicaldaily.com